Alexander Graham Bell – Reading Comprehension Worksheet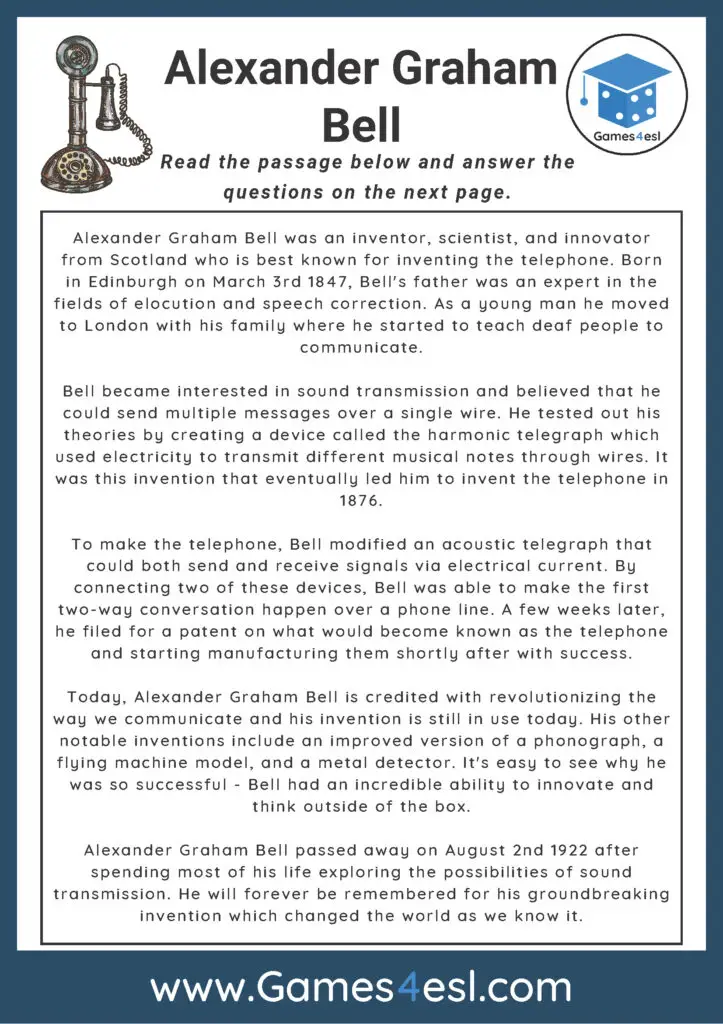 This reading comprehension worksheet is about Alexander Graham Bell. It discusses Bell's history, his inventions, and how his innovations revolutionized the way we communicate. To complete the worksheet, students are asked to read the passage and then complete five reading comprehension questions on the next page.
Complete Online
Save paper and complete this reading comprehension online! Read the passage below about Alexander Graham Bell. Then, answer the questions at the bottom of the page. Ready?
Alexander Graham Bell
Read the passage and then answer the questions below.
Alexander Graham Bell was an inventor, scientist, and innovator from Scotland who is best known for inventing the telephone. Born in Edinburgh on March 3rd, 1847, Bell's father was an expert in the fields of elocution and speech correction. As a young man, he moved to London with his family, where he started to teach deaf people to communicate.
Bell became interested in sound transmission and believed that he could send multiple messages over a single wire. He tested out his theories by creating a device called the harmonic telegraph, which used electricity to transmit different musical notes through wires. It was this invention that eventually led him to invent the telephone in 1876.
To make the telephone, Bell modified an acoustic telegraph that could both send and receive signals via electrical current. By connecting two of these devices, Bell was able to make the first two-way conversation happen over a phone line. A few weeks later, he filed for a patent on what would become known as the telephone and started manufacturing them shortly after with success.
Today, Alexander Graham Bell is credited with revolutionizing the way we communicate, and his invention is still in use today. His other notable inventions include an improved version of a phonograph, a flying machine model, and a metal detector. It's easy to see why he was so successful – Bell had an incredible ability to innovate and think outside of the box.
Alexander Graham Bell passed away on August 2nd, 1922, after spending most of his life exploring the possibilities of sound transmission. He will forever be remembered for his groundbreaking invention, which changed the world as we know it.
Questions