Basketball Reading Comprehension Worksheet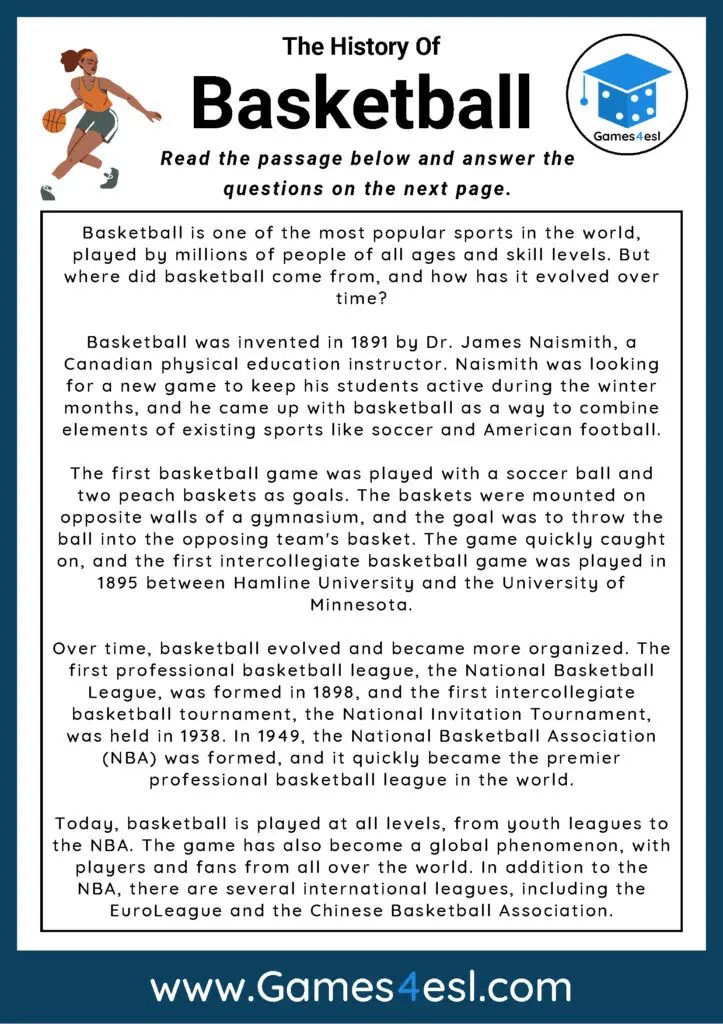 This reading comprehension worksheet is about basketball. It discusses the history of basketball and how it evolved into the popular game played today all over the world. To complete the worksheet, students are asked to read the passage and then complete five reading comprehension questions on the next page.
Complete Online
Save paper and complete this reading comprehension online! Read the passage below about basketball. Then, answer the questions at the bottom of the page. Ready?
Basketball
Read the passage and then answer the questions below.
Basketball is one of the most popular sports in the world, played by millions of people of all ages and skill levels. But where did basketball come from, and how has it evolved over time?
Basketball was invented in 1891 by Dr. James Naismith, a Canadian physical education instructor. Naismith was looking for a new game to keep his students active during the winter months, and he came up with basketball as a way to combine elements of existing sports like soccer and American football.
The first basketball game was played with a soccer ball and two peach baskets as goals. The baskets were mounted on opposite walls of a gymnasium, and the goal was to throw the ball into the opposing team's basket. The game quickly caught on, and the first intercollegiate basketball game was played in 1895 between Hamline University and the University of Minnesota.
Over time, basketball evolved and became more organized. The first professional basketball league, the National Basketball League, was formed in 1898, and the first intercollegiate basketball tournament, the National Invitation Tournament, was held in 1938. In 1949, the National Basketball Association (NBA) was formed, and it quickly became the premier professional basketball league in the world.
Today, basketball is played at all levels, from youth leagues to the NBA. The game has also become a global phenomenon, with players and fans from all over the world. In addition to the NBA, there are several international leagues, including the EuroLeague and the Chinese Basketball Association.
Questions