Magic E Flashcards | Silent E Flashcards
When teaching about 'magic e' words, also known as 'Silent e' words, it is essential to have some magic e flashcards. On this page, you can find some free printable magic e flashcards you can use in your phonics lessons. Below you'll find both large and small flashcards for teaching CVCE Words.
Magic E Flashcards
Large Flashcards
A set of Magic E flashcards which can be used to present the target vocabulary and for many flashcard games. These are large flashcards, and so can be used by the teacher at the front of the class or can be displayed on the board.
Small Flashcards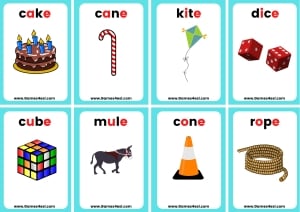 A set of 8 smaller magic e flashcards for students to hold. These can be used for many card games such as 'find your partner', 'memory games, line bingo, and many more.
Related Magic E Resources
For more materials for phonics lessons about the 'magic e', check out these related resources:
CVC Word List And Activities
Magic E Guessing Game
Magic E Worksheets