Social Distancing Classroom Games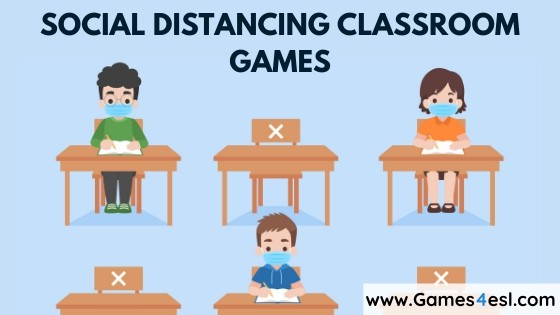 Many teachers and students around the world are returning to a very different kind of learning. As social distancing becomes the new norm in the classroom, the traditional classroom games and activities that teachers and students are used to are no longer possible. That's why we have put together this list of classroom games and ideas that can be played while social distancing in the classroom.
Classroom activities like board games and role-plays require students to interact and share materials and so they are no longer possible while social distancing in the classroom. All the games below do not require students to share resources or to be close to each other, so they can be played while students stay at least two meters apart. And all these games are absolutely FREE. I hope your students have fun while playing these games in class.
Related: Social Distancing Recess Games
Classroom Games To Play While Social Distancing
Top Five Quizzes
Top of our list of social distancing classroom games are these fun quiz games. Quizzes are perfect for social distancing as students do not need to move around the class or interact with other classmates. They simply write their answers down. Usually these quizzes would be played in pairs or small teams, but seen as that is not possible while social distancing, these quizzes can be played individually.
In these quizzes students will see a question which can have multiple answers. For example, 'Name something blue.'. The students must then write down ONE answer and if their answer is in the 'Top Five' answers, then they score points. You can make your own Top Five quiz with this Top Five Quiz PPT Template, or you can download this pre-made Top Five Quiz with ten questions.
Stand Up Game
If you have every taught English in South Korea then you probably know this game as the 'Nunchi Game'. In this game students must stand up and say a number, but if two students stand up at the same time, then they are out. A variation of this game is a perfect social distancing classroom activity as students can stay behind their own desk while playing.
To play, tell students that as a class they are going to count to 5. Tell them that one student must stand up and say the number 1. Then a different student must stand up and say number 2, and so on up to 5. Any student can stand up at any time, but if two students stand up at the same time, then they lose. This game is incredibly fun and can be played while students keep their distance from each other.
Line Bingo
Line Bingo is a great alternative to traditional bingo and this game can be easily played while social distancing. To play this game, each student would need a set of word cards. You can make your own or you can download our many small flashcard sets from our flashcards page which are perfect for this game.
Give one set of cards to each student and ask them to arrange them in a horizontal line in any order they want. Then, the game can begin. The teacher should call out one of the cards and then the students should check their line of cards. If the card that the teacher called out is on either end of the line, then the student can turn that card over. If the card is in the middle of the line, the student can not turn it over. Next, the teacher would call out another card and the students would again check if they can turn it over or not. The first student to turn over all their cards is the winner.
Telepathy Games
Telepathy Games are so simple but incredibly fun! In this game there are two correct answers and students must guess which answer the teacher is thinking of. To find out which answer the teacher is thinking of students must use 'telepathy' to read the teacher's mind.
To play, download this Telepathy Game PowerPoint Template and add your questions and answers. Ask each student to prepare a pencil and a piece of paper to write their answer on. After showing students the question and two possible answers ask students to write one answer down. Then once all students have written their answers reveal which answer you were thinking of and if students guessed correctly they get a point. If you are playing this game with kids, to make it more fun you can pretend to 'send' the answer through 'telepathy' using just the power of your mind.
Hot Seat
This classic classroom game can be easily adapted so students can play while social distancing. Ask one student to come to front of the class and stand / sit at a safe distance from other students. Then on the TV / Board behind the student show the rest of the class a word. Next, the students should try to describe the word on the TV / board without saying the word, and the student at the front of the class should guess what it is.
Hidden Picture Games
Hidden picture games like the video above do not require students to interact or be close so they are perfect activities for social distancing in the classroom. In these classroom games an image is hidden behind some colored shapes. As the shapes disappear, the image is slowly revealed and students must try to guess what it is.
You can make your own hidden picture game using this blank hidden picture game PPT template, or download one of our many ready to use hidden picture games on many topics.
Keep Your Distance
If you are teaching young learners, making sure they maintain social distancing while playing classroom games can be incredibly difficult. A great way to help students see where they can and can't stand is to mark out areas on the floor.
These Social Distancing Floor Markers on Amazon can be an incredibly useful tool to help kids to social distance in the classroom. (FYI As an amazon associate I earn from qualifying purchases. But don't worry, Games4esl only recommends products that we love!)
Thanks for reading. I hope you found some inspiration for your next social distancing classroom game. Before you go, don't forget to check out our other FREE lesson materials for teaching English, including Activity Videos, ESL Worksheets, Vocabulary Exercises, Grammar Exercises, Board Games, PowerPoint Games, PowerPoint Lessons, and much more.