Useful Christmas Gifts For Teachers In 2021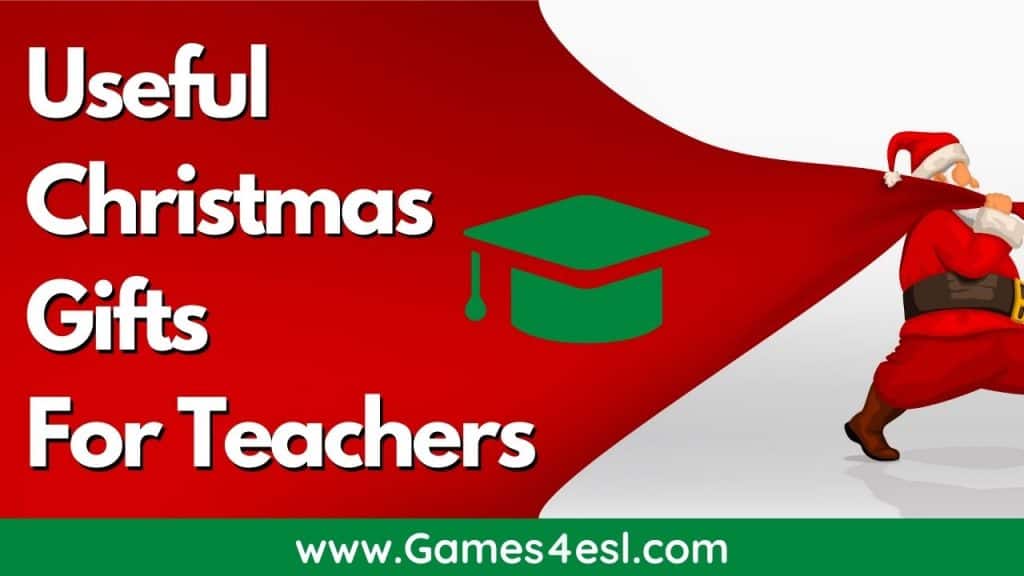 Although many teachers would tell you that teaching is its own reward, giving a useful gift to a teacher this Christmas can show them you care and recognize the hard work that teachers do. 2021 has been really hard for all of us, and especially hard for teachers. So, why not show them you appreciate all the hard work they do with one of these useful Christmas gifts for teachers.
(FYI: This post contains affiliate links. As an Amazon Associate, I earn from qualifying purchases. Games4esl only recommends products that we love.)
Best Christmas Gifts For Teachers In 2021
Top of our list of useful Christmas gifts for teachers is a gift subscription to Amazon Prime. This may seem like a boring present, but this year particularly, a gift subscription to Amazon prime can be an incredibly useful Christmas gift for a teacher.
Teachers are always super busy, often bringing their work home with them. This leaves little time to go out shopping for the things they need. All Amazon Prime subscriptions come with free two-day shipping with no minimum order size.
Another reason why this is a useful Christmas gift for teachers this year is that a subscription to Amazon Prime also includes the ability to stream thousands of movies and TV shows, and unlimited access to millions of songs. This year, teachers, like all of us, cannot meet friends and family as often as they used to for safety and as such, they are staying home a lot more often. A gift of Amazon prime means that they will always have something to watch or listen to to help them wind down.
This next useful Christmas gift for teachers is a teacher's bag. Teachers often need to transport laptops, heavy books, students' homework, and other classroom supplies between their home and school. Carrying all these things, while keeping everything organized can be particularly challenging for teachers. This is why a teacher bag makes a really useful Christmas gift for teachers.
This Women's teacher tote bag (pictured above) is a really stylish teacher bag that has a compartment for everything. There's a large compartment for a laptop, 15 inside compartments, and pockets for water bottles. There's even a USB charging port so a teacher can easily charge their phone on the go if they have a power bank.
If you are looking for a male teacher bag, you can find some great suggestions on our other post about the best teacher bags to buy.
A teacher planner can be a very useful gift for a teacher this Christmas. Keeping things organized is one of the biggest challenges for teachers, and a great teacher planner is essential.
This teacher planner (pictured above) is an undated academic year planner, which means the teacher can start using it anytime. So, if the teacher you want to give a Christmas gift to already has a planner when that runs out, they can start using this one. This teacher planner includes 60 weeks of undated planning blocks.
With the huge amount of work that teachers do, it's no wonder that teachers love coffee. A good travel mug can be a super useful Christmas gift for a teacher as it allows them to take their favorite drink anywhere with them without spilling a drop while keeping it warm. This travel mug is a great choice as it lots of positive affirmations that teachers can read to keep them positive.
Last on our list of useful Christmas gifts for teachers is a Christmas gift card. Teachers really appreciate gift cards as they allow them to buy something they really want while saving their own hard earned cash. Gift cards are a great option for teachers you don't know very well, or even for those teachers you do know well but are stuck for a useful Christmas present idea. You have a variety of different options to send the gift card, including printing it out at home, sending it by email or text. But seen as it's Christmas, a great option is to get it delivered in the mail in a cute Christmas gift box.
Related
Thanks for reading. I hope you found some useful Christmas gift ideas for teachers. Before you go, check out these related posts: