Question Tag Examples And Exercises
Learning how to form question tags is not particularly difficult for English language learners. Rather, the challenge for students is using question tags naturally. For this reason, students need lots and lots of practice forming question tags. Below you'll find 30 question tag examples along with some question tag exercises so that you/your students will be able to use question tags fluently in no time.
Question Tag Examples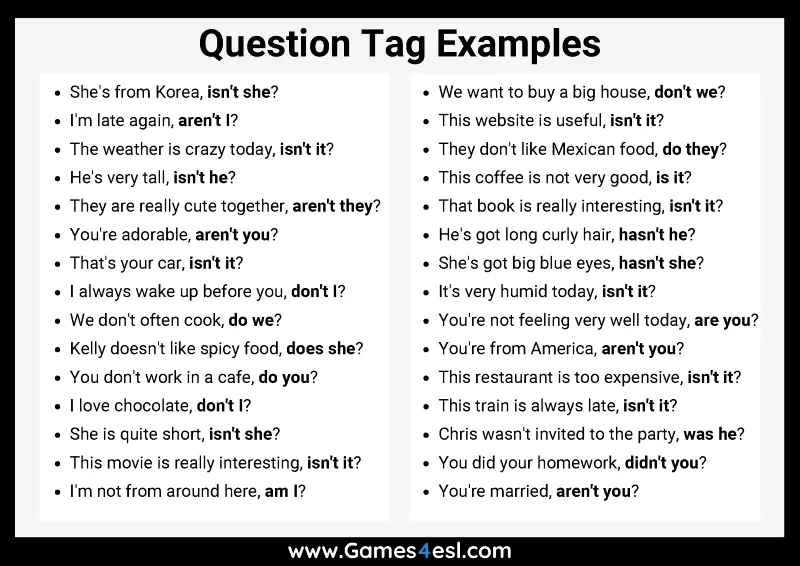 She's from Korea, isn't she?
I'm late again, aren't I?
The weather is crazy today, isn't it?
He's very tall, isn't he?
They are really cute together, aren't they?
You're adorable, aren't you?
That's your car, isn't it?
I always wake up before you, don't I?
We don't often cook, do we?
Kelly doesn't like spicy food, does she?
You don't work in a cafe, do you?
I love chocolate, don't I?
She is quite short, isn't she?
This movie is really interesting, isn't it?
I'm not from around here, am I?
We want to buy a big house, don't we?
This website is useful, isn't it?
Mum and dad don't like Mexican food, do they?
This coffee is not very good, is it?
That book is really interesting, isn't it?
He's got long curly hair, hasn't he?
She's got big blue eyes, hasn't she?
It's very humid today, isn't it?
You're not feeling very well today, are you?
You're from America, aren't you?
This restaurant is too expensive, isn't it?
This train is always late, isn't it?
Chris wasn't invited to the party, was he?
You did your homework, didn't you?
You're married, aren't you?
Question Tag Exercises
Exercise 1: Quiz
This first question tag exercise is a fun interactive quiz with 10 questions. Each question has a blank space, and you must choose the correct question tag to complete the sentence.
Exercise 2: PDF Worksheet
This next question tag exercise is a printable PDF worksheet. There are 10 questions and answers and each question asks you to fill in the blank with the appropriate question tag. This PDF also includes the answers on a separate page.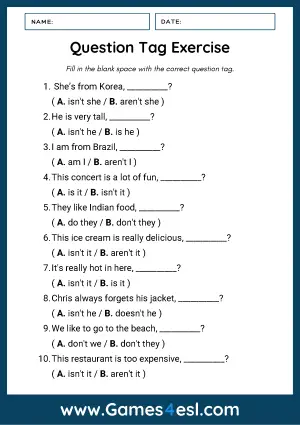 Related
Thanks for reading. I hope you found these question tag examples useful. Before you go, be sure to check out our free online English grammar exercises and online quizzes.