Download free printable animal worksheets and use them in class today. On this page, you can find a collection of PDF worksheets for teaching animal names and animal vocabulary to kids and beginner English language students. See below for the animal worksheets currently available, and check the bottom of the page for related resources.
Animal Worksheets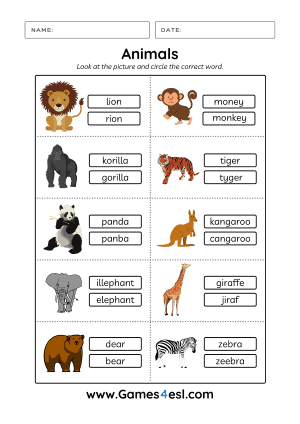 Worksheet 1
This first animal worksheet includes 10 animal pictures. To complete this worksheet, students should look at the animal picture and then circle the correct spelling of the animal name. This worksheet is suitable for kids and beginner English language learners.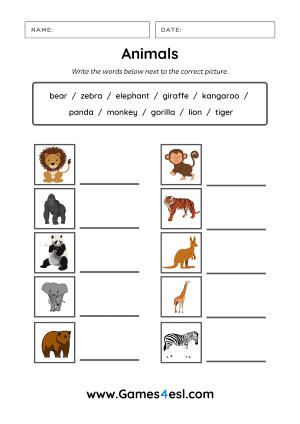 Worksheet 2
This next animal worksheet has 10 animal pictures and blank lines. To complete this worksheet, students should fill in the blank space with the correct animal name. Animals include lion, monkey, gorilla, tiger, panda, kangaroo, elephant, giraffe, bear, and zebra.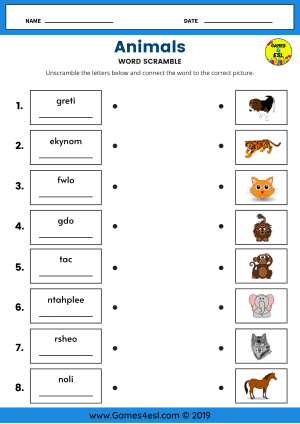 Worksheet 3
To complete this worksheet, students must unscramble the letters to make an animal name. Then students must connect the word to the correct animal picture. This worksheet is good for beginner students to practice spelling the names of different animals in English.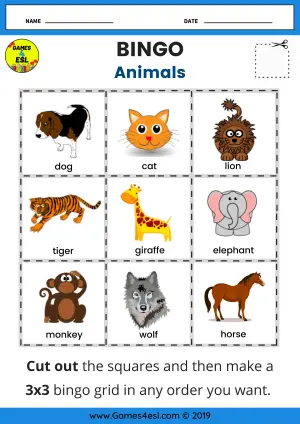 Worksheet 4
This worksheet is an animal bingo game. Students must first cut out the 9 animal pictures. Then they can arrange them in a 3×3 bingo grid. As the teacher calls out the animal names, the students can turn the picture over. At the end of the game, simply turn over the animal pictures to start again.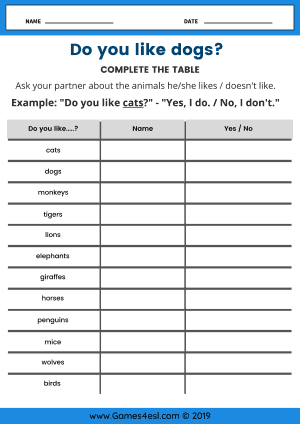 Worksheet 5
This animal activity worksheet is great for practicing speaking. Students should ask their partner or other students in the class about the animals they like. This worksheet uses the expression 'Do you like (dogs)?' – 'Yes, I do. / No, I don't.' After students have asked their classmates, they should write their friends' names on the worksheet to complete the table.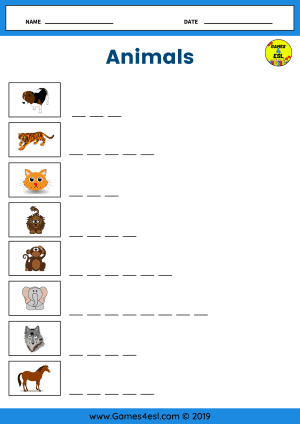 Worksheet 6
This animal vocabulary worksheet includes 8 animal pictures and blank spaces. Students must look at the picture and write the correct animal name in the blank spaces. This worksheet is great for students to practice spelling the names of the animals in English.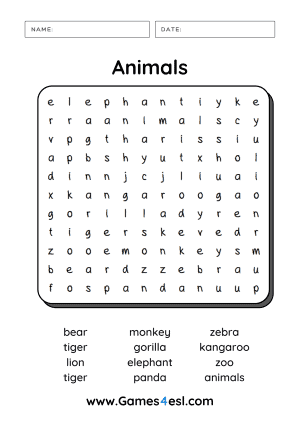 Worksheet 7
This last worksheet is an animals word search. Students should try to find the animal names in the grid and then check off the animal names as they find them. This activity worksheet is a great way to review animal names in English or as a fun extra time activity for students who finish early.
Related Resources
For more lesson materials for teaching animals vocabulary in English, check out these related resources:
Animals And Habitats Worksheets
Animals Guessing Game
Animals Telepathy Game
Animals Lesson Plan
Animal Flashcards
Animals Vocabulary Exercises