Useful List Of Common English Abbreviations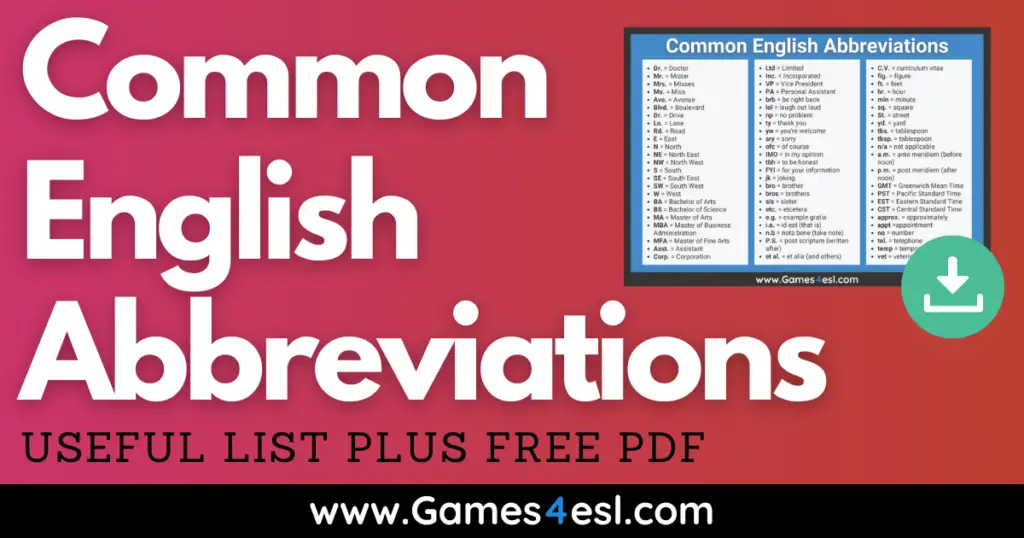 Abbreviations are shortened forms of words used in place of full words. Abbreviations are often used in contexts where you need to fit a lot of words into a small space. They are also useful to use in place of long phrases to make sentences shorter and easier to read.
When English language learners come across abbreviations in texts, they a likely to have difficulty understanding their meaning unless they have taken the time to learn common English abbreviations. Below you'll find a useful list of common English abbreviations and their meanings. You'll also be able to download a printable PDF of these abbreviations to help you learn or teach these words to students.
English Abbreviations List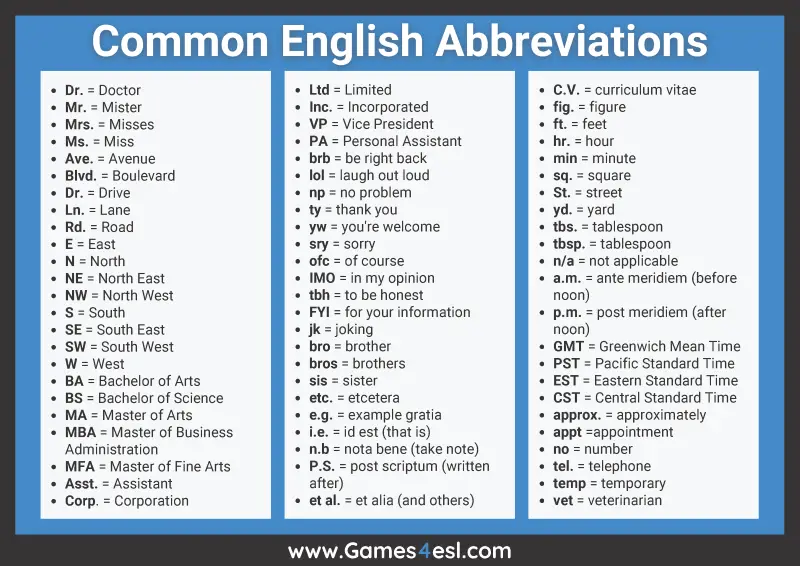 Dr. = Doctor
Mr. = Mister
Mrs. = Misses
Ms. = Miss
Ave. = Avenue
Blvd. = Boulevard
Dr. = Drive
Ln. = Lane
Rd. = Road
E = East
N = North
NE = North East
NW = North West
S = South
SE = South East
SW = South West
W = West
BA = Bachelor of Arts
BS = Bachelor of Science
MA = Master of Arts
MBA = Master of Business Administration
MFA = Master of Fine Arts
Asst. = Assistant
Corp. = Corporation
Ltd = Limited
Inc. = Incorporated
VP = Vice President
PA = Personal Assistant
brb = be right back
lol = laugh out loud
np = no problem
ty = thank you
yw = you're welcome
sry = sorry
ofc = of course
IMO = in my opinion
tbh = to be honest
FYI = for your information
jk = joking
bro = brother
bros = brothers
sis = sister
etc. = etcetera 
e.g. = example gratia (for example)
i.e. = id est (that is)
n.b = nota bene (take note)
P.S. = post scriptum (written after)
et al. = et alia (and others)
C.V. = curriculum vitae
fig. = figure
ft. = feet
hr. = hour
min. = minute
sq. = square
St. = street
yd. = yard
tbs. = tablespoon
tbsp. = tablespoon
n/a = not applicable
a.m. = ante meridiem (before noon)
p.m. = post meridiem (after noon)
GMT = Greenwich Mean Time
UTC =  Universal Time Coordinated
PST = Pacific Standard Time
EST = Eastern Standard Time
CST = Central Standard Time
approx. = approximately
appt = appointment
no = number
tel = telephone
temp = temporary
vet = veterinarian
vs = versus