Directions Flashcards | ESL Printable Flashcards
Printable flashcards, large and small, to teach English lessons about directions. These are great for ESL lessons about giving directions in English. Suitable for kids and beginner English language learners. See below for the FREE printable resources currently available to download. 
Directions Flashcards
Large Flashcards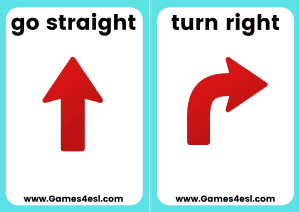 A set of direction flashcards which can be used to present the key words  and for many flashcard games. Vocabulary includes, go straight, turn right, turn left, on the right, on the left, next to, between, and in front of. 
Small Flashcards Cards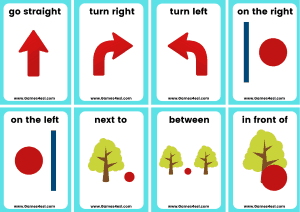 A set of 8 small directions flashcards for students to hold. These can be used for many card games such as 'find your partner', 'memory games, line bingo, and many more.
Related Resources For Teaching Directions
Directions Worksheets
5 Fun Activities To Teach Directions