Pop Songs for ESL Students to Sing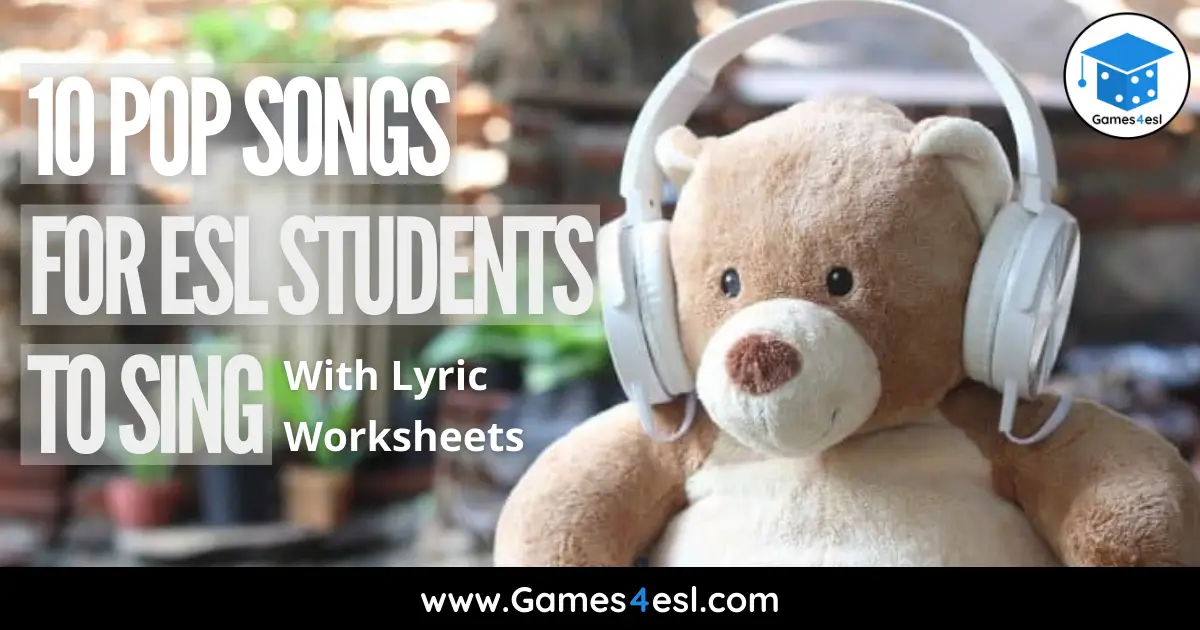 Singing pop songs in class can be a fantastic way to motivate your students and to create a fun and positive learning environment. The problem is that it can be incredible difficult and time consuming to find appropriate English pop songs for ESL students to sing in class. Often pop songs may not have clean lyrics and the song's topic may not be appropriate for kids and ESL students. Also, many pop songs are not easy to sing as they are too fast or too high/low pitched for  ESL learners to sing along. 
After teaching pop songs in my English classes for many years, I made this list of 10 catchy pop songs for ESL students that students love to sing. All of the pop songs are very catchy and have clean lyrics that are suitable for kids / teenagers. You can also download the lyrics worksheets below each song.
If you are looking for songs for young ESL students, check out our other post on the best ESL songs for kids listed by topic. 
10 Catchy English Pop Songs For Students To Sing In Class
1. 'Shotgun' by George Ezra
Don't worry, this song is not about shooting or violence. 'Shotgun' refers to 'riding shotgun', i.e. riding in the passenger seat of a car, and NOT a deadly weapon. 
This song was my students' absolute favorite song to sing in class. The chorus and the melody is very catchy. It may seem a little difficult for ESL students to sing at first, but after practicing a few times the song will be stuck in yours and your students' heads all day.
2. 'The Show' by Lenka
This is another incredibly catchy song that students love to sing. Even though this song is about life and love, both boy and girl students enjoy singing this song in class. The lyrics and speed of the song make this song easy to sing.
The below lyrics video is a 'doodle video' that I found on YouTube that was obviously made by students. Why not make your own doodle video in your class?
3. 'Call Me Maybe' by Carly Rae Jepsen
This song about love at first sight was another favorite of my students. The verses are a little fast, but the chorus is easy to sing and very catchy. I have taught this song with elementary, middle, and high school students and they all really loved singing this song. 
TIP: If searching for this song on YouTube, search for lyric videos, not the original video as some scenes in the original video may not be appropriate for young learners (There's a topless man in one scene). Here's another 'doodle' video with the lyrics which is more appropriate for the classroom.
4. 'Drag Me Down' by One Direction
The lyrics to this song may be a little fast to begin with and young ESL students may have difficulty singing the whole song. But the chorus slows down and students love to sing 'Drag me Down' and 'Nobody, Nobody!' really loud. It's a lot of fun once students have practiced the song a few times. The Music Video is pretty cool too!
5. 'Everything At Once' by Lenka
The lyrics to this song are incredibly easy and catchy and students, both young learners and teenagers, love to sing this song. This song is another great song for making a 'doodle' video in class like the one below.
6. 'The Best Day of My Life' by American Authors
The lyrics to this song are sang quite fast and many ESL learners may struggle to sing the song at first. But with practice, it's possible. I even taught this song to a group of grade 4 elementary school students. After practicing for a few lessons, the students could sing along with most of the song.
TIP: Again this song's original music video may not be appropriate for young learners (they go to a bar and drink alcohol in the video) so best to stick to lyric videos like the one below.
7. 'Outdoors' by Jason Mraz
This song is to the same melody as 'I'm Yours' but instead of being about love, it is about wanting to go out and play outside. This is great to sing in the spring / summer time. If students sing the song well, why not reward them by taking them 'outdoors' for their next lesson.
8. 'Something Just Like This' by The Chainsmokers and Coldplay
This English pop song has a steady beat and is quite easy for students to sing along to. The music video is also very impressive and students love to watch this animation over and over again.
9. 'Beautiful' by One Direction
This song may be a little fast for some students, but the chorus is very catchy and guaranteed to get your students singing along.
10. 'Rewrite the Stars' by Zac Efron and Zendaya
This song from 'The Greatest Showman' Original Soundtrack is probably a little too difficult for younger learners, but teenagers will love singing this song.
Thanks for reading. I hope your students enjoy singing these songs in class as much as mine did.