Christmas Vocabulary | Useful List of Christmas Words
Tis the season to learn Christmas vocabulary! Christmas is an important time of year for many countries around the world. As such, many English teachers teach Christmas vocabulary to their students at this time of year. To help you out, we have put together this list of Christmas words. Below you'll find a Christmas words list and a printable list of Christmas words. And, at the bottom of the page, you can find some related resources for teaching about Christmas vocabulary.
Christmas Vocabulary
List Of Christmas Words
Here's a useful list of English words about Christmas:
Christmas
Santa
present
Christmas tree
reindeer
Rudolph
sleigh
candy cane
elf
snowman
gingerbread man
chimney
stockings
Christmas lights
decorations
bauble
bell
star
holly
mistletoe
wreath
Santa's sack
Christmas card
Printable List Of Christmas Words
Download this Christmas vocabulary list as a printable PDF.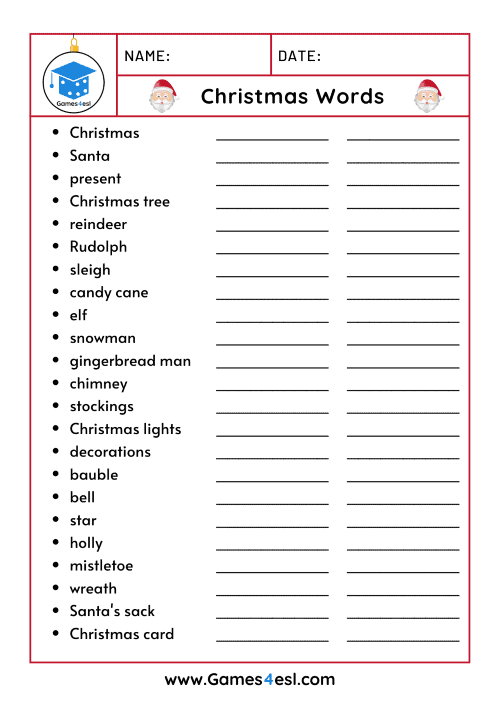 More Christmas Resources
Check out these other free resources on Games4esl for English lessons about Christmas.
Online Christmas Games
Printable Christmas Worksheets
Christmas PowerPoint
Christmas Gift Ideas For Teachers