This days of the week quiz is great for teaching and learning the names of the 7 days of the week in English. There are 7 questions and each question will ask you to choose the correct day to fill in the blank space. Try the interactive quiz below, or download and print this days of the week quiz PDF.
Download And Print Quiz
Download a printable PDF of this quiz.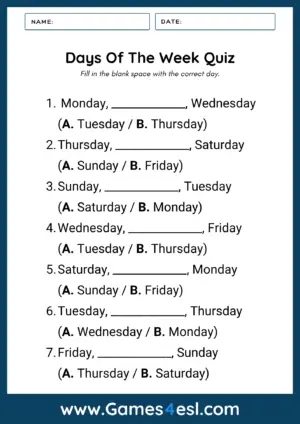 Related Resources
For more free resources for teaching days of the week in English, check out these related resources:

Days Of The Week In English
Days Of The Week Worksheets
Days Of The Week Flashcards
Days Of The Week Lesson Plan