Easy English Quizzes for Kids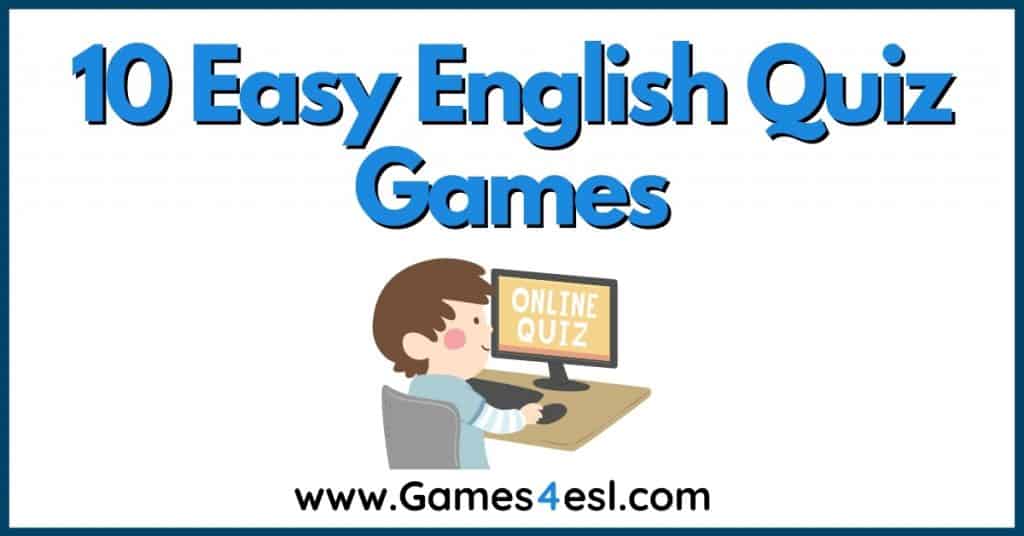 Make learning fun with these 10 easy English quiz games. Each of the English quizzes on this page is an English quiz for kids and includes easy English quiz questions. These easy English quizzes are great for kids and beginner ESL students and are an effective way to improve students' language skills and fluency in a fun way. 
Test students' general knowledge while reviewing grammar with our comparative and superlative quizzes, and see how lucky your students are with our Top Five Quizzes. Each of these easy English quiz games has 10 English questions for kids. Each quiz takes about 20-30 minutes of classroom time, depending on the size of your class. See below for detailed instructions on how to play these fun and easy English quiz games for kids.
Easy English Quizzes for Kids
TOP FIVE QUIZ
Here are 4 different 'Top Five' Quizzes which are really fun and a great alternative to the normal quiz format. These kinds of English quizzes are great for kids and beginner English language learners.
How to Play
Each English quiz question has multiple possible answers. For example, 'Name a zoo animal.' Students must think of one answer and write it down (or simply tell the teacher if they can't write yet). If their answer is one of the 'Top Five' answers, then they get points. The number one answer gets the most points and the number 5 answer gets the least points. You'll be surprised just how many students guess the top answer correctly! 
Before Starting The Quiz
Depending on the size of your class, this English quiz is best played in small teams/pairs. Once students are divided into teams, give each team something to write their answer on and to keep track of their points. HERE is a free answer worksheet that can be printed used with these quizzes. 
Make It More Fun
To make this English quiz more fun, ask each team to come up with their own silly team name. After each question, before you reveal the answers, ask each team to tell you their answer, and when you call on each team, call them by their silly team name. 
Comparative and Superlative Quizzes
Here are 2 more fun and easy English quizzes. These English quizzes are great to review comparative and superlative adjectives with kids and beginner English language learners.
How to Play
These two English quizzes have 10 multiple choice questions based on general knowledge. To play, simply show the quiz and ask students to write down the answer that they think is correct. Alternatively, to get students up out of their seats, you could ask them to move to one side of the room / to a corner, to indicate their answer.
Another great way to use these English quizzes is to put students into pairs or small teams and ask them to write down their answer. Before revealing the answer, ask each team to tell you their answer using the target language. Again, you can print this quiz answer sheet and give to students to write down their answers. 
'What Am I?' Quiz
In this fun English quiz, students must read the clues and guess the answer. There are 10 English quiz questions. Each question asks 'What am I?' and provides three clues. 
How to Play
Simply play the English quiz in class. Students will see three clues and then have 10 seconds to guess the answer. Pause the video if your students need more time to read the questions. Then, students can either raise their hand to answer or ask your students to write down the answer on an answer sheet. Here are lots more What Am I Quiz Questions.
Geography Quiz
In this easy English quiz, students must try to guess the country before the time runs out. 
How to Play
Students will see an outline of a country's map. Students then have 5 seconds to guess what country it is. This is a fun activity which can be used when teaching about countries and nationalities. It can be used with lessons using expressions such as 'Where are you from?', etc.
More Quizzes
For more quizzes, check out our online quizzes, our English vocabulary exercises, and our English grammar exercises.