Family Worksheets | Free Printable Family Member Worksheets
Download family worksheets and use them in class today. On this page, you can find a collection of PDF worksheets for teaching about family vocabulary and members of the family in English. These family worksheets are absolutely free and can be downloaded as a printable PDF file. See below for the family worksheets that are currently available and check the bottom of this page for related resources.
Family Worksheets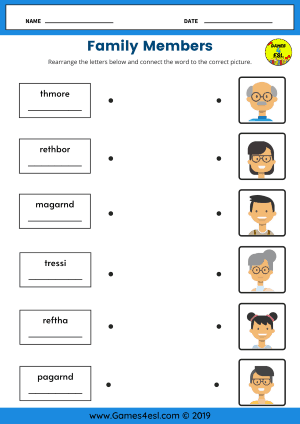 Worksheet 1
In this family worksheet for beginners, students must first rearrange the letters to spell a family member word. Then students should connect the word to the correct family member picture. This worksheet is great for kids and beginner English language learners to learn about members of the family in English.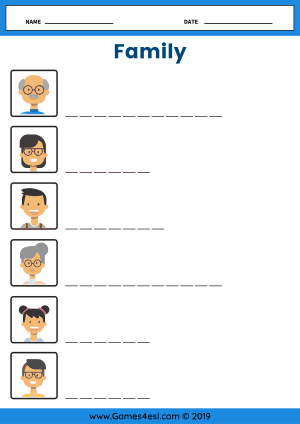 Worksheet 2
This family worksheet is for kids and beginner students to practice spelling and writing the names of the members of the family in English. The family members vocabulary includes grandfather, grandmother, father, mother, brother, and sister.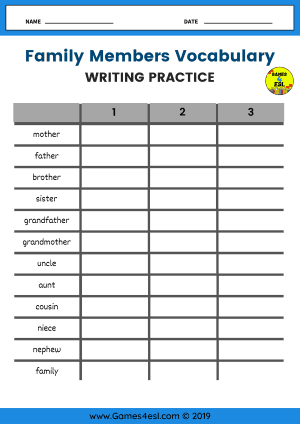 Worksheet 3
This family vocabulary worksheet is for beginner ESL students to practice writing the family member names. Students should read the family members names in English and write the word three times.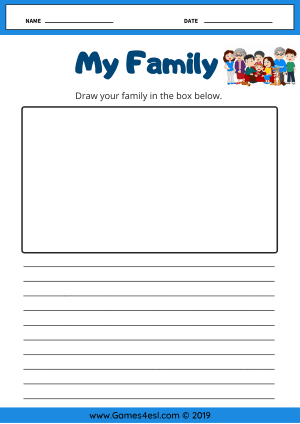 Worksheet 4
This family worksheet asks students to draw their family. There is also writing lines so students can write about their family in English. This can be used in many family lessons. For example, lessons with key expressions such as 'This is my father.' / 'She's my sister.' / My mom is a teacher.', etc.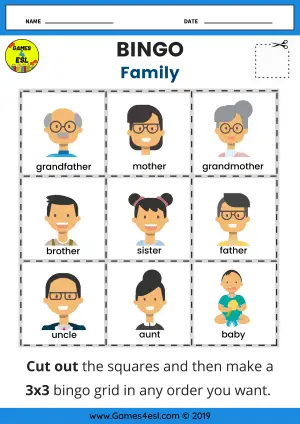 Worksheet 5
Practice family vocabulary with this family bingo worksheet. Students should cut out the 9 family pictures, and then arrange them in a 3×3 grid in any order they wish. Then as the teacher calls out the family members, the students can turn that picture over. The first student to get 1 / 2 / 3 lines of bingo is the winner. Then you can play again by asking students to turn over the pictures and make another 3×3 grid. 
Related Resources
For more lesson materials for teaching lessons about family/members of the family in English, check out these related resources:

Family Members In English – A Comprehensive Guide
Family Flashcards and Board Games
Family Lesson Plan
Family PPT
Questions About Family