Ordinal Numbers In English | Usage And Examples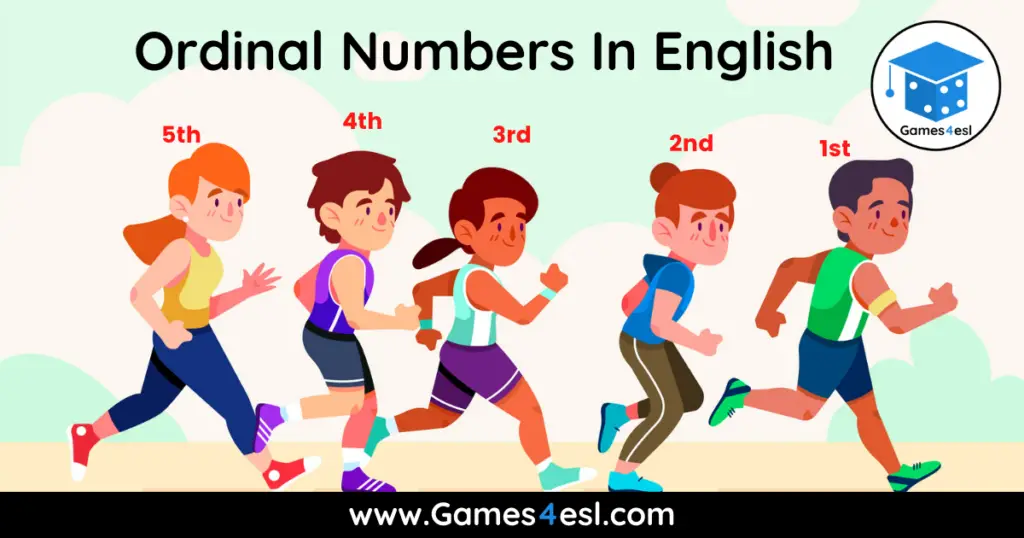 English ordinal numbers are numbers that indicate a position or order of things and objects. They are numbers such as 1st (first), 2nd (second), 3rd (third), 4th (fourth), and so on. A cardinal number, on the other hand, refers to numbers that indicate how many of something there are. For example, 1 (one), 2 (two), 3 (three), etc. On this page, you will find a list of ordinal numbers in English with the correct English spelling. There are also some useful ordinal number examples, and examples of when to use ordinal numbers in English.
Related: Ordinal Numbers PowerPoint
Ordinal Numbers List 1-100
1st – first
2nd – second
3rd – third
4th – fourth
5th – fifth
6th – sixth
7th – seventh
8th – eighth
9th – ninth
10th – tenth
11th – eleventh
12th – twelfth
13th – thirteenth
14th – fourteenth
15th – fifteenth
16th – sixteenth
17th – seventh
18th – eighteenth
19th – nineteenth
20th – twentieth
21st – twenty first
22nd – twenty second
23rd – twenty third
24th – twenty fourth
25th – twenty fifth
26th – twenty sixth
27th – twenty seventh
28th – twenty eighth
29th – twenty ninth
30th – thirtieth
31st – thirty first
32nd – thirty second
33rd – thirty third
34th – thirty fourth
35th – thirty fifth
36th – thirty sixth
37th – thirty seventh
38th – thirty eighth
39th – thirty ninth
40th – fortieth
41st – forty first
42nd – forty second
43rd – forty third
44th – forty fourth
45th – forty fifth
46th – forty sixth
47th – forty seventh
48th – forty eighth
49th – forty ninth
50th – fiftieth
51st – fifty first
52nd – fifty second
53rd – fifty third
54th – fifty fourth
55th – fifty fifth
56th – fifty sixth
57th – fifty seventh
58th – fifty eighth
59th – fifty ninth
60th – sixtieth
61st – sixty first
62nd – sixty second
63rd – sixty third
64th – sixty fourth
65th – sixty fifth
66th – sixty sixth
67th – sixty seventh
68th – sixty eighth
69th – sixty ninth
70th – seventieth
71st – seventy first
72nd – seventy second
73rd – seventy third
74th – seventy fourth
75th – seventy fifth
76th – seventy sixth
77th – seventy seventh
78th – seventy eighth
79th – seventy ninth
80th – eightieth
81st – eighty first
82nd – eighty second
83rd – eighty third
84th – eighty fourth
85th – eighty fifth
86th – eighty sixth
87th – eighty seventh
88th – eighty eighth
89th – eighty ninth
90th – ninetieth
91st – ninety first
92nd – ninety second
93rd – ninety third
94th – ninety fourth
95th – ninety fifth
96th – ninety sixth
97th – ninety seventh
98th – ninety eighth
99th – ninety ninth
100th – one hundredth
When To Use Ordinal Numbers
Order / Position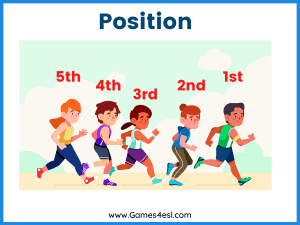 We use ordinal numbers to show the order or position of things. For example, if you were watching 5 people running in a race, the person winning is in first place and the person in last is in fifth place. In this example, the ordinal numbers are indicating the order/position of the people in the race.
Floors In A Building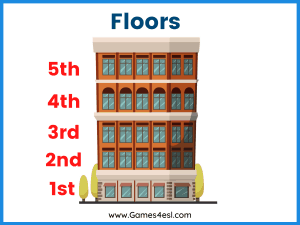 Ordinal numbers are used to describe the floors in a building. For example, first floor, second floor, third floor, etc.
School Grade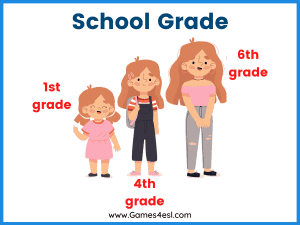 When describing what grade a student is in at school we use ordinal numbers. For example, 'She's in the first grade.', 'He's in the fifth grade.', etc. Note, it is possible to describe a student's grade by using cardinal numbers in the following way: 'She's in grade one.', 'He's in grade five.', etc.
Date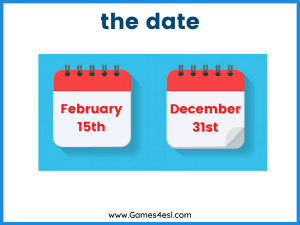 We use ordinal numbers when telling the date. For example, February 15th 1985, November 12th 1957, etc.
Centuries
When describing a century we use ordinal numbers. For example, 16th century, twenty-first century.
Birthdays and Anniversaires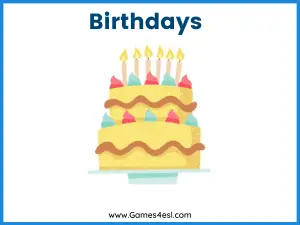 When describing a particular birthday or anniversary we use ordinal numbers. For example, 'Her 60th birthday is tomorrow.', 'Today is our 5th wedding anniversary.', etc.
Kings And Queens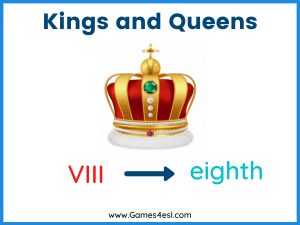 The names of Kings and Queens are often written using Roman numerals in English. But when we say the name of the King or Queen we use ordinal numbers. For example, the current Queen of England is Queen Elizabeth II, which is pronounced Queen Elizabeth the second.
Ordinal Numbers Example Sentences
Here are some useful example sentences which use English ordinal numbers:
My birthday is February 15th.
The library is on the third floor.
He's in the sixth grade.
I came second in the race.
Henry III (the eighth) was King of England in the 16th century.
Next week is my grandma's 80th birthday.
January is the first month of the year.
My brother was first in line to buy the new iphone.
First, fold the piece of paper in half. Second, fold the piece of paper again.
Related
Thanks for reading. I hope you found these ordinal number examples useful. Before you go, here are some other free resources for teaching numbers in English that you may find useful:
Ordinal Numbers PowerPoint
Numbers PowerPoint
Worksheets For Teaching Numbers
Number Tracing Worksheets
Fun Classroom Games To Teach Numbers