Teach vocabulary to do with Halloween with these FREE Halloween flashcards. Below you'll find some free Halloween flashcards plus other printable resources about Halloween.
Halloween Flashcards
This PDF is a set of 8 Halloween flashcards. Halloween flashcards include pumpkin, witch, ghost, monster, black cat, bat, cauldron, and candy.
Halloween Bingo Game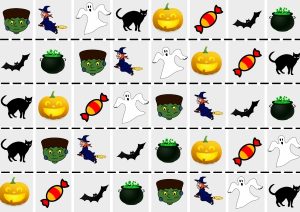 This a great alternative to regular bingo. To play, simply print out the line bingo worksheet. Then cut along the dotted line to make a strip with 8 pictures. Give one strip to one student (or pair of students). Then, the teacher will call out the words. If the word that the teacher calls out is at the end of the strip (right side or left side), then the students can fold it over. When the students have folded over all 8 boxes, they have bingo.
More Halloween Resources
For more resources for teaching Halloween, check out these related resources:
Halloween Worksheets
Halloween Guessing Game
Halloween PowerPoint Lesson
Halloween PowerPoint Game