Download free seasons flashcards and use them in class today. There are both large and small seasons flashcards for teaching the four seasons and related vocabulary. These are great for kids and beginner English language learners.
Season Flashcards
Large Flashcards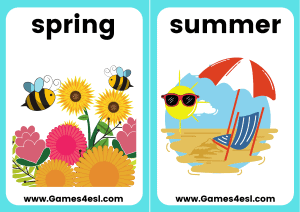 A set of 8 large seasons flashcards. Vocabulary includes spring, summer, fall, winter, hot, warm, cool, and cold. Click the button below to download these flashcards.
Small Flashcards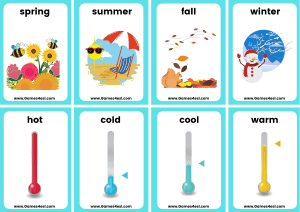 This PDF is a set of 8 smaller season flashcards. These are small enough for kids to hold and are great for activities such as card games, memory games, find your partner games, etc.
Related Resources
Seasons Worksheets
Seasons PPT Lesson
Summer Worksheets
Weather Worksheets
Weather Flashcards