20 Easy General Knowledge Quiz Questions Anyone Can Answer
Whether you're looking for easy general knowledge quiz questions and answers to make your own general knowledge quiz, or you're looking for a ready-made general knowledge quiz, we've got you covered. Below you'll find a collection of our favorite fun and easy general knowledge quiz questions you can use, plus a fun general knowledge quiz video that's ready to go. If you would like to print a PDF of the quiz questions, you can do so at the bottom of the page.
Easy General Knowledge Quiz
Questions
What is the orange part of an egg called?
How many legs do insects have?
What is a baby kangaroo called?
What is the closest planet to the Sun?
In which country can you find the Eiffel Tower
How many days are there in a year?
How many players are in a soccer team?
Where do polar bears live?
Which is faster, light or sound?
How many letters are in the English alphabet?
What is the name of a shape with 5 sides?
How many Continents are there?
What is the name of the tallest mountain on earth?
The planet Mars is also known as what? The ( ) planet.
How many months have 31 days?
How many colors of the rainbow are there?
My mother's mother is my…what?
Which animal lays the largest eggs?
How many zeros are in ten thousand?
In which country would you find the Sydney Opera House?
Answers
Yolk
Six
Joey
Mercury
France
365
Eleven
The Arctic
Light
Twenty Six
Pentagon
Seven
Mount Everest
The Red Planet
Seven Months
Seven
Grandmother
Ostrich
Four Zeros
Australia
Download And Print The Quiz Questions And Answers
If you would like to download and print these easy general knowledge quiz questions and answers, you can do so below. This PDF includes the 20 questions with space for you/your students to write the answers.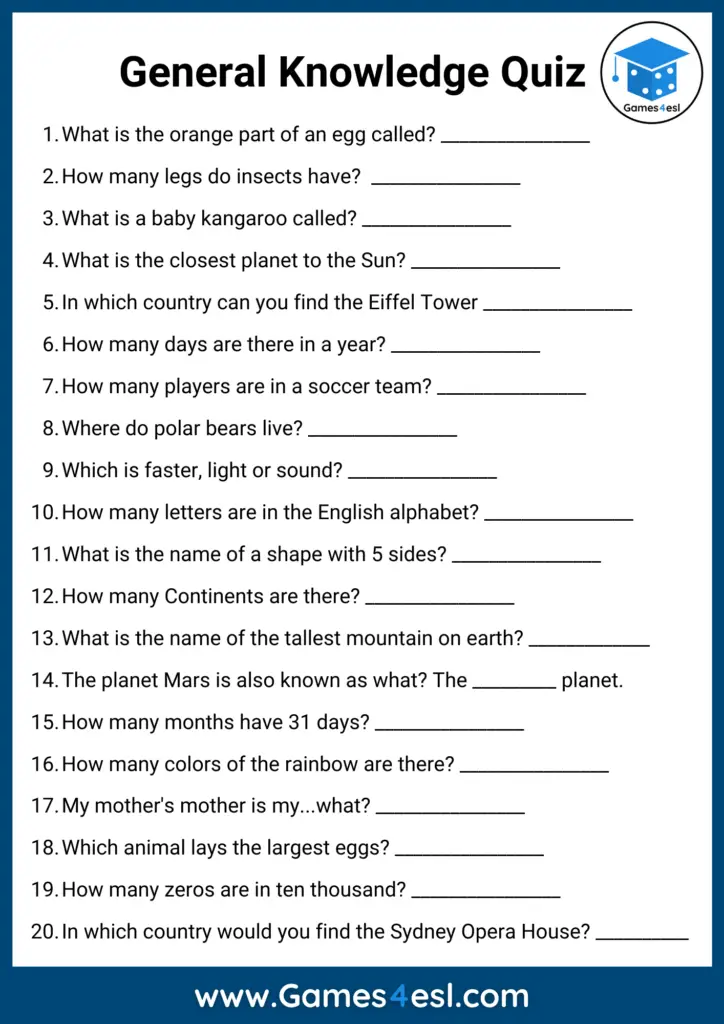 Related Resources
Interactive Online Quizzes
One Percent Club Questions
Are You Smarter Than A 5th Grader? Questions
'What Am I?' Quiz Questions And Answers