Magic E Coloring Worksheets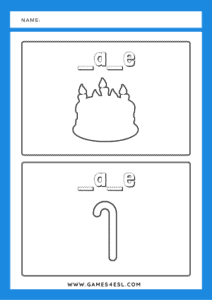 Download magic E coloring worksheets for phonics lessons teaching the magic e / silent e / final e / cvce words. To complete these worksheet, students should first try to guess what it is and then fill in the blank space to make the correct magic e word. Then students can color the picture and the words. These worksheets are suitable for kindergarten, preschool, kids, and beginner English language learners.
Related Magic E Materials
Click on the links below to check out related FREE resources.
Magic E Flashcards
Magic E Guessing Game
CVCe Words List And Activities