Transportation Worksheets
Download free transportation worksheets and use them in class today. On this page, you can find a collection of PDF worksheets for teaching about transportation / modes of transport in English. These transportation worksheets are absolutely free to use in your classes. See below for the worksheets currently available, and check the bottom of the page for related resources.
Transportation Worksheets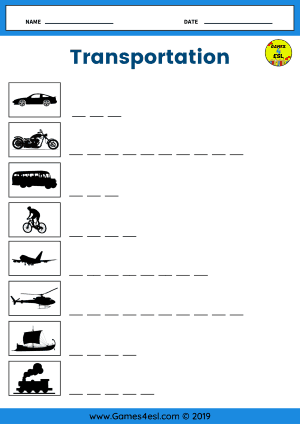 Worksheet 1
This simple transportation worksheet is great to practice transportation vocabulary and spelling. Students should look at the picture and write the mode of transport in the blank space.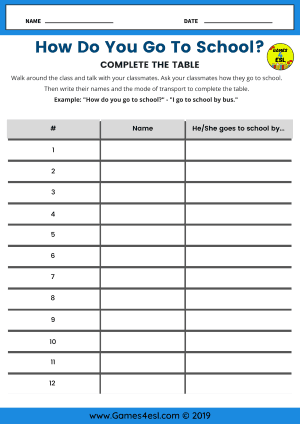 Worksheet 2
To complete this worksheet, students should walk around the class and ask their classmates 'How do you go to school?'. Then students should write their name and the mode of transport on the worksheet to complete the table. This activity worksheet is great to encourage students to speak using the target language. Tip: After students complete the worksheet, ask individual students how their classmates go to school. For example, 'How does Sally go to school? – 'She goes to school by bus.'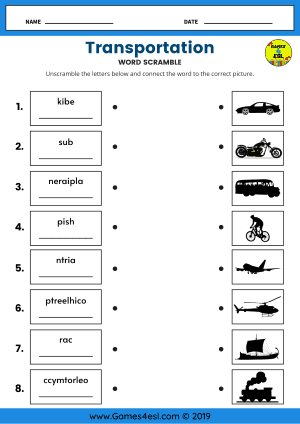 Worksheet 3
This transportation vocabulary worksheet asks students to unscramble the letters to spell a mode of transport. Then students should connect the word to the correct transportation pictures. This worksheet is good for kids and beginner ESL students. 
Worksheet 4
This activity worksheet is based on the game 'Battleships' and is a game played in pairs. Students should write 10 modes of transport anywhere in their grid. These are the students' 'Battleships'. Then, with their partner, students should take turns calling out grid coordinates (e.g. D 4) as they try to find their partner's battleships.

If they find one of the battleships (transportation words) then their partner must make a sentence using the word in that square. For example, 'I go to school by (train).' This is a fun activity worksheet that will get your students talking using the target language.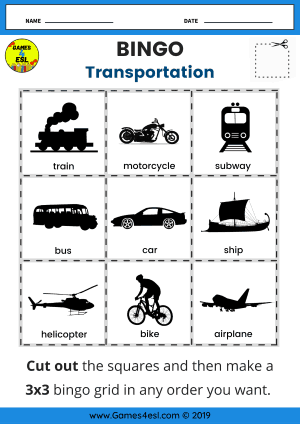 Worksheet 5
This worksheet is a bingo worksheet to teach transportation vocabulary. Students should cut out the transportation pictures and then arrange them in a 3×3 grid. Then, as the teacher calls out the words, students can turn over the pictures. Once students have 3 in a line they have bingo. TIP: To make the game last a little longer, tell students they must make 2/3 lines of bingo to win. Also, once a student wins, simply turn over the pictures and start again.
Worksheet 6
This simple worksheet is for beginner ESL students to practice writing the key transportation vocabulary. There are 12 modes of transport. Students should write each one 3 times. This worksheet is great for practicing writing and spelling the different modes of transport in English.
Related Resources
For more lesson materials for teaching about transportation / modes of transport in English, check out these related resources:
Transportation Flashcards
Transportation Guessing Game
Transportation Lesson Plan