Great Kahoot Alternatives | Best Websites Like Kahoot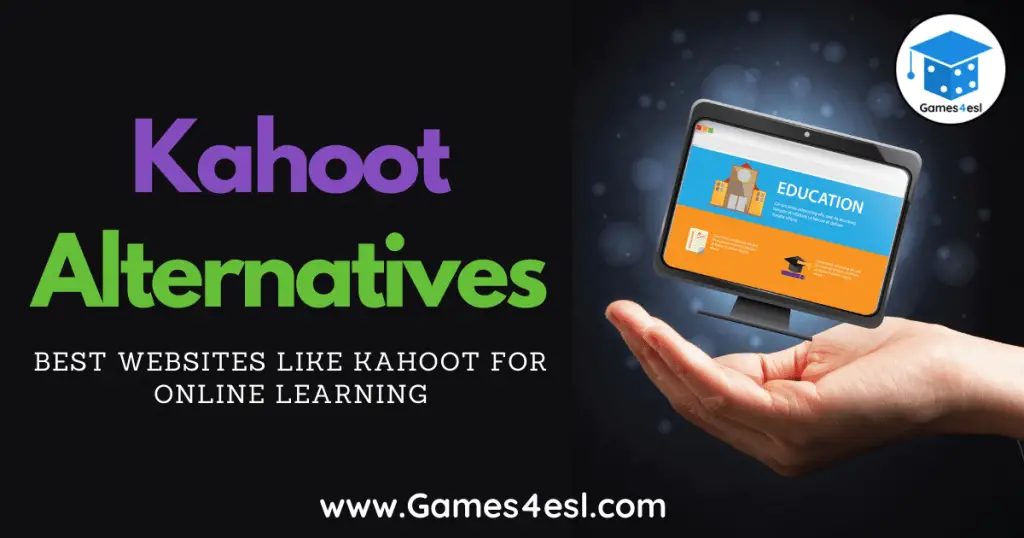 Kahoot is a fantastic website to make learning fun, but did you know there are many great alternatives to kahoot? In this post, we look at the best websites like Kahoot that you can use to make online quizzes and fun activities to use when teaching. If you're not sure what Kahoot is, it's an online learning platform that allows you to create quizzes and play them together with your students. All the alternatives to Kahoot below can also be used by teachers to share quizzes and other online activities with their students.
Best Kahoot Alternatives
Top of our list of Kahoot alternatives is the fantastic website Wordwall. Wordwall has much more than online quizzes. Teachers can create and share quizzes, matching games, interactive wordsearches, interactive anagrams, and much more. Not only that, there are many useful teacher tools that you can use in class, such as a 'spin the wheel' activity which you can use to choose a student, choose a question, reward points, etc.
Wordwall has both free and paid plans, but the prices are very reasonable for the amount of interactive resources you can create. So, if you're teaching online or in the classroom and want a fun alternative to Kahoot, check out Wordwall.net.
Quizziz is very similar to Kahoot and a great alternative to Kahoot for making and sharing educational quizzes and games online. After logging in to Quizziz, you immediately have access to thousands of quizzes that have been created by other users. You can filter these quizzes by topic, search for a quiz, or make a new quiz from scratch. Once you have chosen a quiz, you can choose to host a 'live game' in which you play straight away in class, or you can select 'homework game' to set the quiz as homework. To share with students, you simply provide them with a code for them to login to the quiz from their device.
What we really like about Quizziz is how simply and intuitive it is to use and the huge variety of subjects you can choose from. We especially like all the quizzes for English language learners. Quizziz is a fantastic alternative to Kahoot and one of our favorites.
This next Kahoot alternative is Quizlet. Quizlet works a little differently compared to Kahoot. To start, you first create a 'study set' which is a set of flashcards / annotated diagrams about the topic you want your students to learn. You can type in the information you desire on the flashcards and add an image, either by choosing from the free Quizlet library or by uploading your own image.
If you don't want to create a completely new study set from scratch, you can search and find existing study sets on the topic you are teaching. Not only that, but you can also copy and then edit the study set to add more terms and questions about the topic you are teaching. Once you have created or chosen a study set, you can easily share with your students by sharing a direct link or by adding the study set to your 'class' so that your students can easily find it.
What makes Quizlet such a great alternative to Kahoot is that there are many ways students can use these 'study sets' to learn. These include simple flip flashcards, multiple choice questions, type in the answer questions, matching games, and our favorite, the 'gravity game'.
The website Bookwidgets allows you to create interactive exercises and games for use in your class. There are over 40 digital exercise templates and learning games including interactive quizzes, interactive worksheets, memory games, bingo games, crossword riddles, and more.
What we really like about Bookwidgets is automatic grading system and the live progress tracker which helps you to monitor your students work in real-time.
Polleverwhere is a great alternative to Kahoot and a wonderful tool for teaching via distance learning. It allows you to create many different types of quizzes to test your students, or polls to survey your students. The Engaging activities from Polleverwhere can be embedded directly in PowerPoints or other existing presentations. We particularly like that you can test or survey your students anonymously and display the results in real-time. So, you can easily gauge all the students' comprehension without singling out any particular student.
Our fun online quizzes are ready-made quizzes covering a variety of topics for English language learners. Quizzes include general knowledge quizzes, English vocabulary quizzes, English grammar quizzes, and more. Like everything on Games4esl, these online quizzes are absolutely free. These quizzes can easily be used in class or while teaching online as an engaging, fun, and interactive activity to review a lesson, or as just a fun time filler activity.
Thanks for reading. Before you go, don't forget to check out the free teaching resources on Games4esl, including activity videos, PowerPoint Games, Worksheets, and more.