Download free 'big and small worksheets' and use them in class today. On this page, you can find a collection of PDF worksheets for teaching the adjectives big and small to kids and beginner English language learners. See below for the big and small worksheets that are currently available, and check the bottom of the page for related resources.
Big and Small Worksheets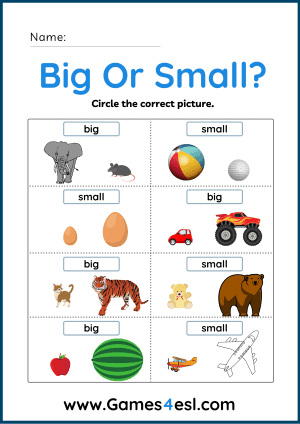 Worksheet 1
This first big and small worksheet includes pictures of big and small things. Students must read the word big or small and then circle the correct picture.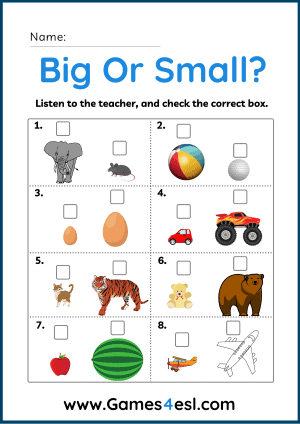 Worksheet 2
This worksheet is a listening activity to teach the adjectives big and small. The teacher should say a sentence and the students should check the correct box. For example, the teacher might say "There is a big cat." and the students should check the box next to the big cat picture.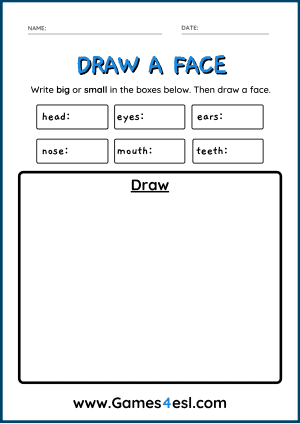 Worksheet 3
This big and small worksheet is a fun drawing activity. To complete the activity, students should first write the words 'big' or 'small' in the boxes next to the parts of the body words. For example, a student might write 'Big head, small eyes, small ears, big mouth, big teeth.'
Once students have written big or small in the boxes, they should then draw a silly face based on what they wrote.

This worksheet is a really fun activity to teach big and small to kids. Kids really love drawing silly pictures and sharing their drawings with their friends. After students have finished their drawings, why not show the pictures to the class and practice saying the key expressions (e.g. big eyes, small mouth, etc).
Related Resources
For more lesson materials for teaching big and small adjectives, check out these related resources:
Big and Small PowerPoint Lesson