Free Comparative Adjective Worksheets
Download free printable comparative adjective worksheets and use them in class today. On this page, you can find PDF worksheets for lessons about comparative adjectives in English. See below for the comparative adjective worksheets currently available, and check the bottom of the page for related resources.
Comparative Adjective Worksheets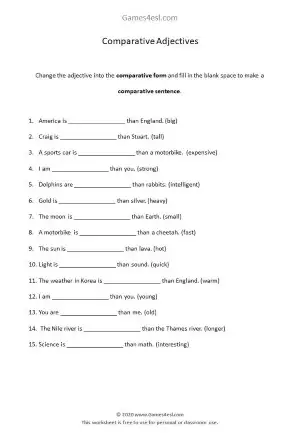 Worksheet 1
This first comparative adjective worksheet is fill in the blank exercise. There are 15 questions and students must change the adjective into the comparative form to complete the sentence.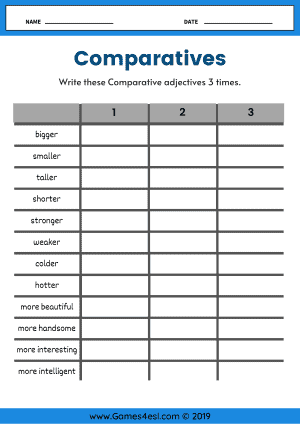 Worksheet 2
This next worksheet is a writing practice worksheet about comparative adjectives. Students must write each comparative adjective three times.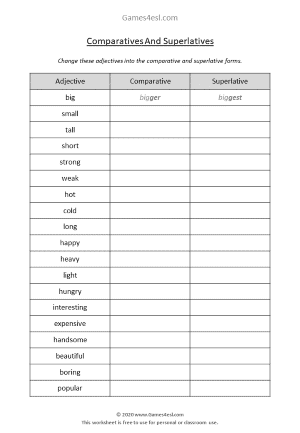 Worksheet 3
In this worksheet, students should look at the adjective and change it into the comparative and superlative form and complete the table.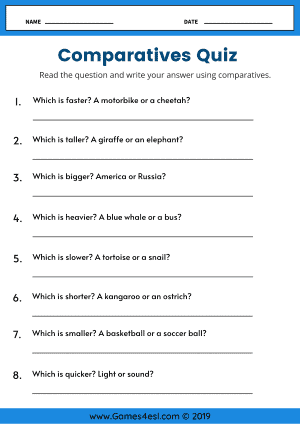 Worksheet 4
This comparatives worksheet is a comparatives quiz with answers. Students should read the question and then write down their answers using a comparative sentence. Then, when students have finished, the teacher can reveal the answers and check if they guessed correctly.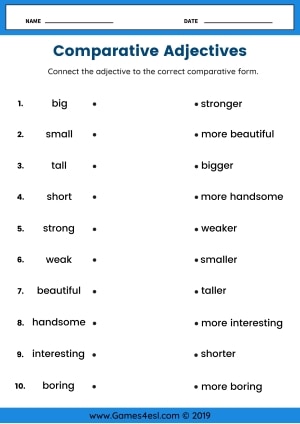 Worksheet 5
This comparatives worksheet asks students to connect the adjective to the correct comparative adjective.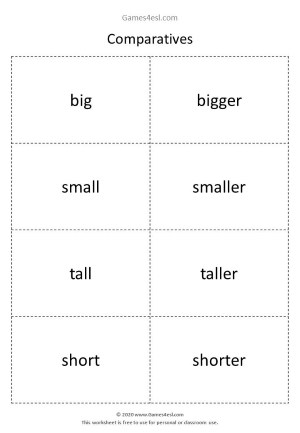 Worksheet 6
This last comparatives worksheet is a set of 'Find Your Partner' cards. Cut up the cards and give one to each student. Some students will have an adjective card and some students will have the comparative adjective card. Students should walk around the class and find the matching pair of cards. The cards on this activity worksheet can be used for many other comparative games such as a matching game/memory game, line bingo, etc.
Related Resources
For more lesson materials for teaching about comparative adjectives in English, check out these related resources:
Comparative Adjectives PowerPoint Lesson
Comparatives Quiz
Comparatives And Superlatives Questions
Comparatives And Superlatives List
Superlatives PowerPoint Lesson