Fun ESL Christmas Games That Kids Love To Play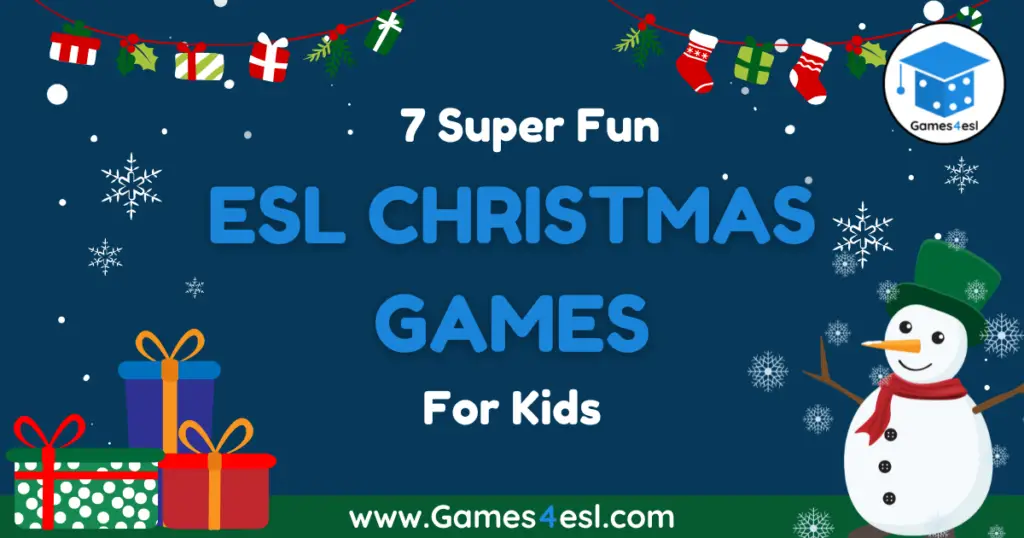 It's that time of year again! The holidays are upon us, and that means it's time to start thinking about fun Christmas activities to keep your students engaged and excited this holiday season. Below you'll find 7 of our favorite ESL Christmas games you can play in class to help your students learn about Christmas vocabulary and get in the holiday spirit. Like everything on Games4esl, these Christmas activities are FREE to use in your lessons. Happy holidays!
Fun ESL Christmas Games
1. Guess The Christmas Food
One of the best things about Christmas is the food! In this activity, students are asked to guess the Christmas food. To play, simply show the video in class. Students will see a picture of some Christmas food hidden behind some colored shapes. As the shapes disappear, students must guess what Christmas food it is before the picture is fully revealed.
2. Christmas Four Corners Games
What's great about this next Christmas game is that it requires almost no preparation. To begin, elicit some Christmas words from students and write them on the board. Next, choose four words and assign one of these words to each of the four corners of the classroom. Now, the game can begin.
Choose one student to be 'Santa' and ask him/her to come to the front of the class and close their eyes. Tell the other students that they have 10 seconds to move to one of the four corners of the classroom.
After 10 seconds, ask 'Santa' to choose one of the four corners by saying the Christmas word that was assigned to that corner. Any student in that corner is out and must sit down. Then, play again. Keep playing until only one student is left. This student then becomes the next 'Santa' in the next game.
3. What Do You Want For Christmas? – Telepathy Game
This next Christmas activity is one of our popular 'telepathy games'. To play, simply show the video in class. There are ten rounds, and in each round, students will see two letters to Santa asking for different things for Christmas. Students must choose ONE and write it down. Students have a 50/50 chance to guess correctly, and if they do, they get points. The student(s) with the most points at the end is the winner.
4. Christmas Vocabulary Game
If you're teaching ESL students about Christmas, then chances are you are going to teach Christmas vocabulary. This activity is a super fun game to review Christmas words. To play, show the video in class. Students will see ten outlines of Christmas items and must guess the word before the timer runs out.
5. Christmas Word Search Puzzle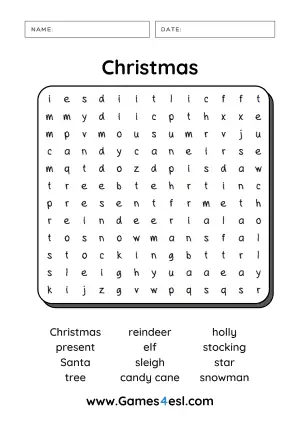 A fantastic way to review the words that students have learned is to play a fun Christmas word search. Download and print this word search and give one to each student. Students must find the Christmas words in the grid and circle them. Then, cross off each word as they find them.
6. Christmas Quiz – What Am I?
This next activity is a fun Christmas quiz. To play, first put students in pairs or small teams and give each team a piece of paper to write on. Next, have each team choose a fun Christmas-themed team name and write it on the paper. Now the game can begin.
This quiz has ten rounds, and in each round, students will read three clues describing something about Christmas. They are then asked "What Am I?" and must write down their guess. If they guess correctly, they score a point. The team with the most points at the end is the winner.
7. How Many Snowmen?
This last activity is perfect for Christmas lessons teaching kids and beginner ESL students. To play, show the video in class. Students will see a Christmas scene and be asked to quickly count the snowmen, presents, or reindeer before the picture disappears. Remember to PAUSE the video when you see the pause sign to give students time to answer.
Related Resources
And there you have it! Our favorite ESL Christmas games! I hope your students have lots of fun playing these activities this holiday season. Before you go, don't forget to check out these related resources:

Christmas Worksheets
Christmas Lesson Plan
Christmas PowerPoint Lesson