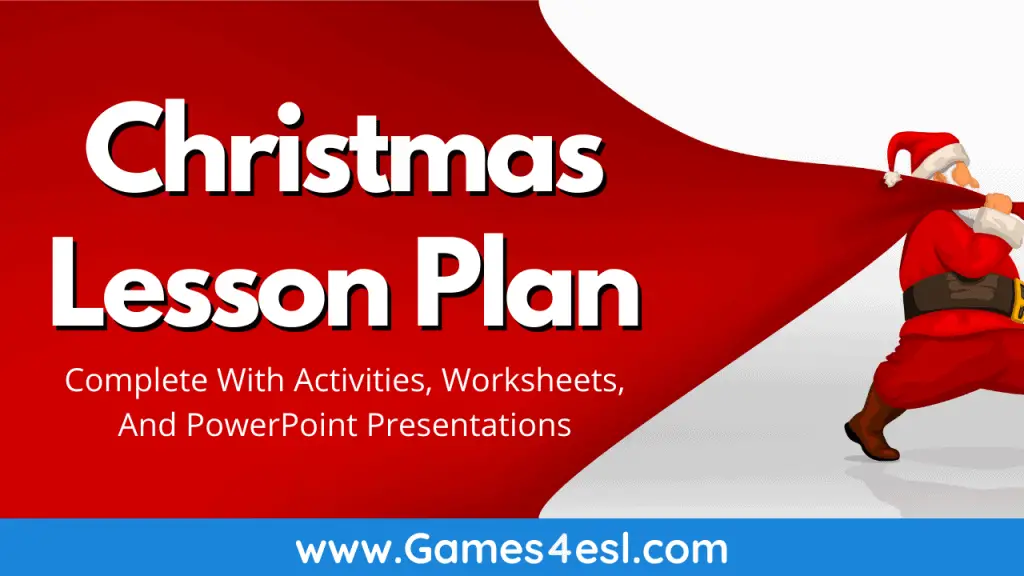 In this lesson about Christmas, students will learn Christmas vocabulary and expressions and play some fun Christmas games. This Christmas lesson plan can be used with kids, kindergarten students, preschool students, and other beginner English learners. The Christmas lesson plan below is complete with all the games, activities, worksheets, and PowerPoint presentations you need. Check the bottom of the lesson plan for related resources for teaching about Christmas.
Materials For This lesson:
Christmas PowerPoint
Christmas Vocabulary Worksheet
Christmas Guessing Game (YouTube)
Christmas Quiz (YouTube)
Christmas Lesson Plan
Introduce Christmas Vocabulary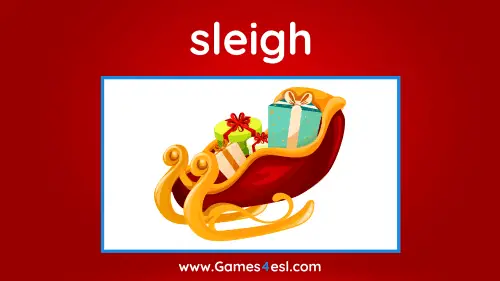 Before introducing the Christmas vocabulary, put the lesson in context so students understand what they are going to learn. A great way to do this when teaching about Christmas is to describe Christmas without saying the word and have them guess what the lesson is going to be about.
For example, you could say "Today we are going to learn about a special day in December. On this special day people usually give and receive presents, and eat a delicious meal with their family. Can you guess what we will study today?"
Once students understand that they are going to learn about Christmas, ask them what Christmas words they already know and write them on the board. Next, introduce the Christmas vocabulary using this free Christmas PowerPoint lesson. This PowerPoint includes 20 Christmas words with pictures. Say each word and ask students to repeat after you. Then, ask students to say each Christmas word on their own.
Learn The Christmas Vocabulary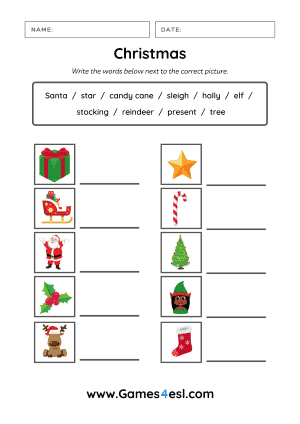 Once students have practiced the Christmas words enough, reinforce what they have just learned with this Christmas vocabulary worksheet. Ask students to look at the picture and write the correct Christmas words in the blank spaces. Alternatively, you can choose another Christmas worksheet from our Christmas worksheets page.
Activity 1: Guess The Christmas Word
Next, it's time for a fun Christmas activity. In this game students will see outlines of Christmas objects and must guess the Christmas word before the time runs out. To play, simply play this video in class from this page or from our YouTube channel. As the Christmas object outline is slowly drawn, ask students to raise their hand when they are ready to guess. This activity is super fun and young kids really enjoy it.
Activity 2: Christmas Pictionary
After finishing the guessing game, it's the students' turn to draw a picture. Invite a student up to the front of the class and show them a Christmas word without showing the other students. Then, give that student 20 seconds or so to draw the Christmas object on the board. As the student is drawing, the other students in the class should try to guess what it is. The first student to guess correctly then gets to come to the front of the class and draw the next Christmas picture.
Activity 3: Christmas Quiz
This last activity is a fun Christmas quiz with 10 questions. It's a 'What am I?' Christmas quiz in which students will read three clues describing a Christmas object. Students must try to guess the Christmas word that is being described before the time runs out. This activity can be played as a whole class and you can ask students to simply raise their hand or shout out the answer when they are ready to guess. Alternatively, put students in pairs or small teams and pause the video while they write down their answer.
Review
Before finishing the class, review what students have learned during this Christmas lesson. A great way to do this is to have students line up at the door before they leave. Ask students to tell you 3 Christmas words that they have learned before they leave the class.
Related Resources
Thanks for reading. I hope you found this Christmas lesson plan useful. Here are some more Christmas materials you can find here on Games4esl.
Online Christmas Games
List Of Christmas Words
Christmas Worksheets
Christmas Telepathy Game
Christmas Game – How Many Snowmen?
Best Christmas Gifts For Teachers