Past Tense Worksheets | ESL Worksheets
Download past tense worksheets and use them in class today. On this page, you can find a collection of worksheets to teach the past tense to English language learners. These worksheets include past tense verbs worksheets, irregular past tense worksheets, past tense sentence worksheets, and past tense activity worksheets. All of these past tense worksheets are FREE to use in your classes. See below for the worksheets currently available, and check the bottom of the page for related resources.
Past Tense Worksheets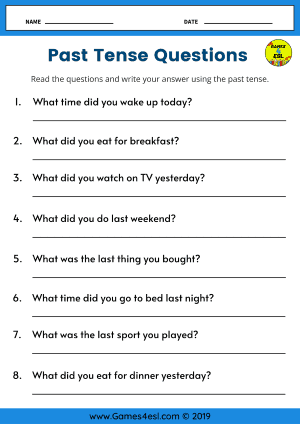 Worksheet 1
This first past tense worksheet asks students to read the questions and answer using past tense verbs and sentences. This worksheet is a great review activity to practice writing past tense sentences.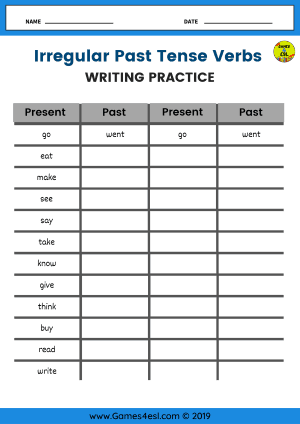 Worksheet 2
This past tense worksheet is for students to practice writing irregular past tense verbs. Students will see the present tense of an irregular verb and must write the past tense form.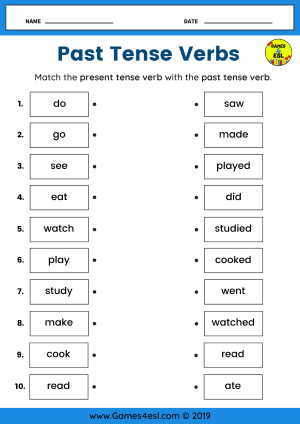 Worksheet 3
To complete this past tense worksheet students must look at the present tense verb and match it to the correct past tense verb. Includes both regular and irregular past tense verbs.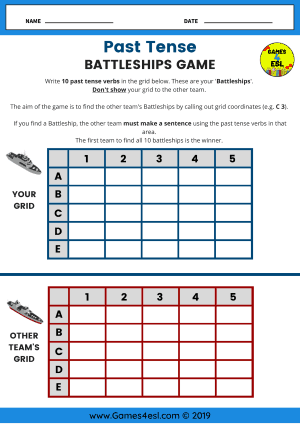 Worksheet 4
This worksheet is a past tense activity/game based on the Battleships game. Students must write 10 past tense verbs in the grid. These are the students' 'Battleships'. Then students will take turns calling out grid coordinates with their partner to try to find the Battleships (verbs). If a student finds one of the 'Battleships' then that student must make a sentence using the past tense verb in that area. The first student to find all 10 past tense verbs is the winner.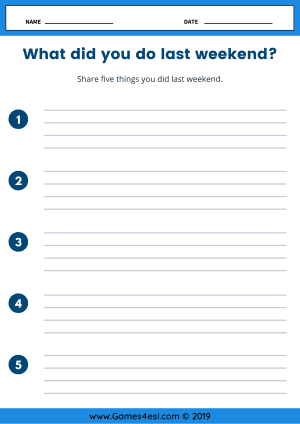 Worksheet 5
This past tense worksheet is a writing worksheet for students to practice writing sentences using the past tense. Students are asked to share five things that they did last weekend.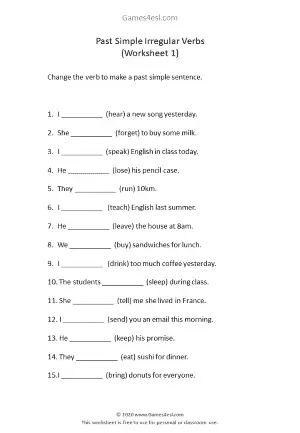 Worksheet 6
This past tense worksheet is a grammar exercise to practice past simple irregular verbs. Students must change the irregular verb into the simple past tense.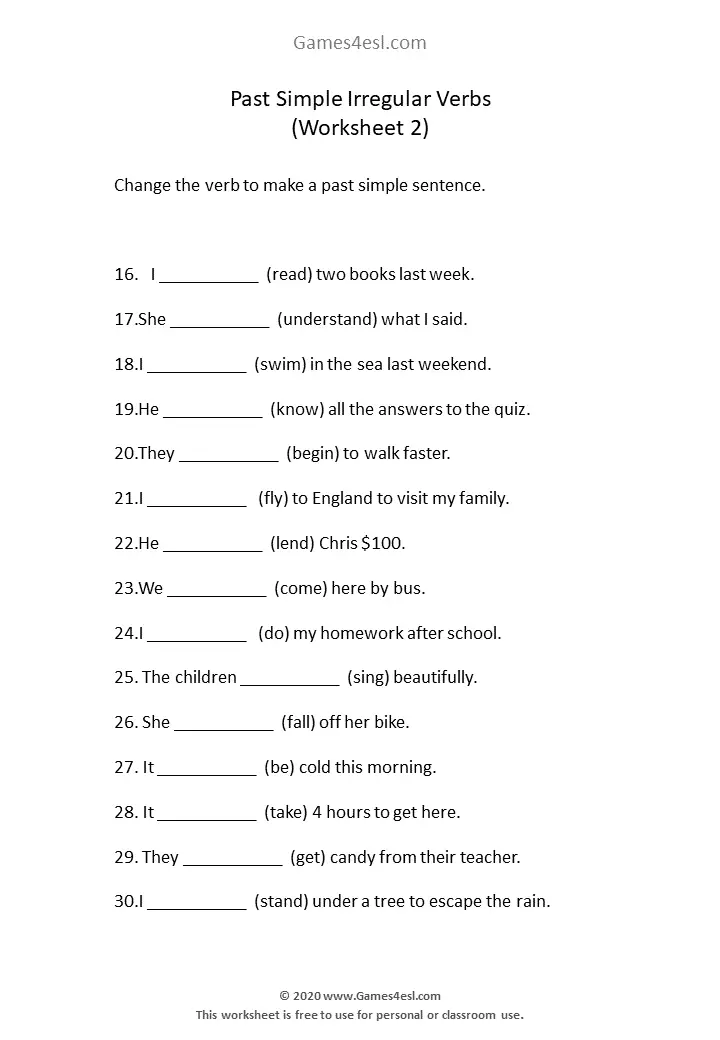 Worksheet 7
This last past tense worksheet is another grammar exercise with 15 more questions to practice past irregular verbs.
Related Resources
For more lesson materials for teaching English lessons about the past tense, check out these related resources:
Past Tense Verbs List
Past Tense Guessing Game
Past Tense Mystery Box Game
Past Tense ESL Lesson Plan