Download free weather worksheets and use them in class today. On this page, you can find a collection of worksheets for teaching about the weather and weather vocabulary to kids and beginner English language learners. These worksheets are great for lessons teaching expressions such as 'How's the weather today?' / 'Is it rainy?' / 'It's windy.', etc. See below for the weather worksheets currently available, and check the bottom of the page for related resources.
Weather Worksheets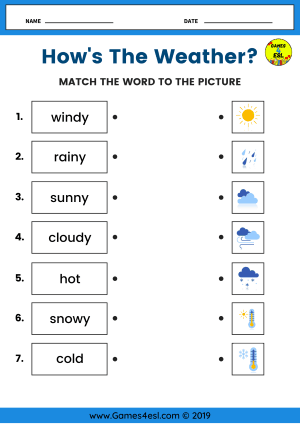 Worksheet 1
This first weather worksheet for kids asks students to connect the weather vocabulary to the correct weather picture.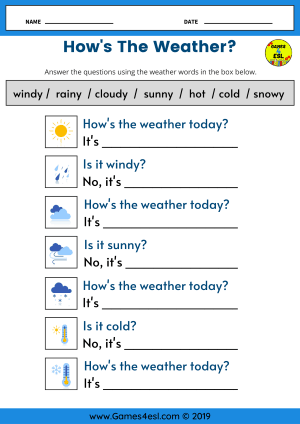 Worksheet 2
In this weather worksheet, students should read the question and then write the answer using the words in the box. Each question asks either 'How's the weather?' or 'Is it (windy)?'. This worksheet is useful for kids and beginner ESL students.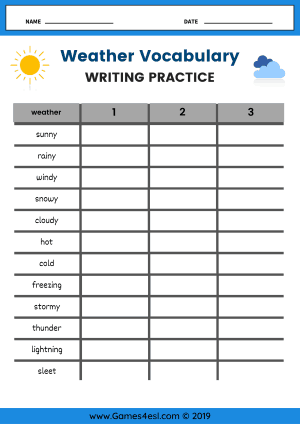 Worksheet 3
This writing worksheet includes 12 weather words and asks students to write each word 3 times. This worksheet is good for kids and beginner ESL students to practice writing and spelling weather vocabulary.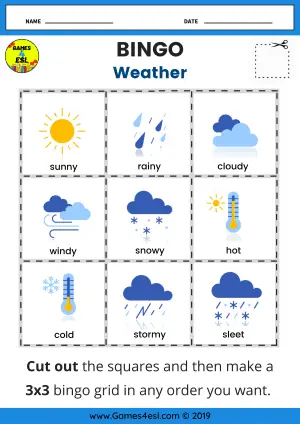 Worksheet 4
Practice weather vocabulary with this bingo worksheet. Students should cut out the 9 weather pictures, and then arrange them in a 3×3 grid in any order they wish. Then as the teacher calls out the weather, the students can turn that food picture over. The first student to get 1 / 2 / 3 lines of bingo is the winner. Then you can play again by asking students to turn over the pictures and make another 3×3 grid. 
Related Resources
For more lesson materials for teaching about the weather in English, check out these related resources:
Weather Flashcards
Weather Lesson Plan
Weather Vocabulary List With Pictures
'How's The Weather?' Game
Weather Quiz