50 Fun Family Feud Questions And Answers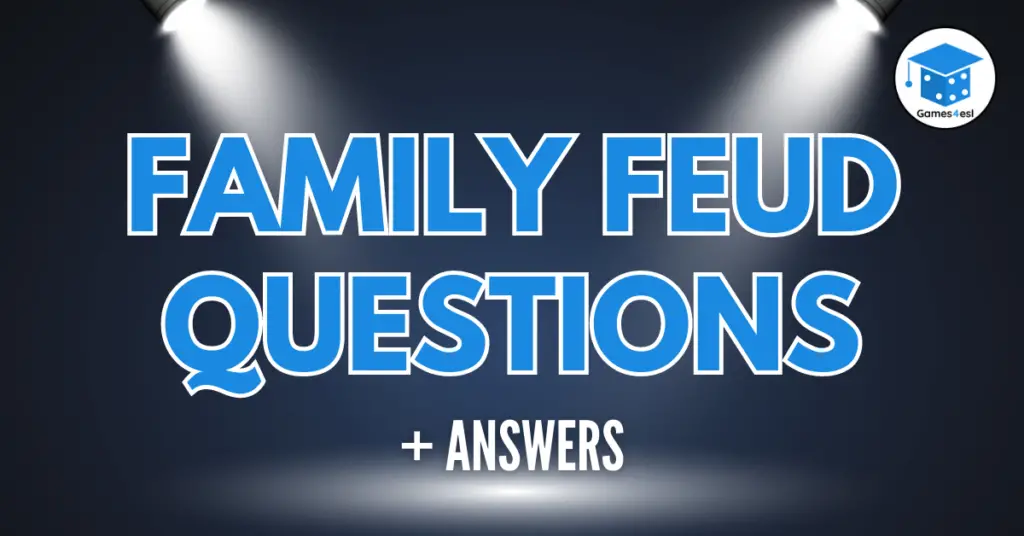 If you're going to be making a Family Feud style quiz then you're going to need lots of fun Family Feud Questions and answers. Bringing the excitement of "Family Feud" into the classroom not only adds a fun element to your teaching, but it also promotes teamwork, critical thinking, and active learning among your students. Below you'll find 50 such questions and answers, together with instructions on how to play Family Feud in the classroom, plus a free PowerPoint template that you can use to make your own quiz.
50 Fun Family Feud Questions And Answers
Name a popular vacation destination.

Hawaii
Paris
Florida
New York
Italy

Name a fruit you might eat in the morning.

Banana
Apple
Orange
Berries
Grapefruit

Name a famous superhero.

Superman
Batman
Spider-Man
Iron Man
Wonder Woman

Name a type of pet people commonly have.

Dog
Cat
Fish
Bird
Hamster

Name a common New Year's resolution.

Lose weight
Exercise more
Save money
Quit smoking
Eat healthier

Name something people lose often.

Keys
Wallet
Phone
Glasses
Remote control

Name a popular type of pie.

Apple pie
Pumpkin pie
Cherry pie
Pecan pie
Lemon meringue pie

Name a type of flower.

Rose
Tulip
Lily
Sunflower
Orchid

Name a famous painting.

Mona Lisa
Starry Night
The Scream
The Last Supper
Girl with a Pearl Earring

Name a popular ice cream flavor.

Vanilla
Chocolate
Strawberry
Mint chocolate chip
Cookies and cream

Name a famous cartoon character.

Mickey Mouse
Bugs Bunny
SpongeBob SquarePants
Homer Simpson
Scooby-Doo

Name a popular type of coffee.

Latte
Espresso
Cappuccino
Americano
Mocha

Name something people are often afraid of.

Spiders
Heights
Darkness
Snakes
Public speaking

Name a common household chore.

Doing the dishes
Vacuuming
Laundry
Dusting
Mowing the lawn

Name a popular sport.

Soccer
Basketball
Football
Baseball
Tennis

Name a type of soup.

Chicken noodle soup
Tomato soup
Clam chowder
Vegetable soup
Minestrone

Name a famous actor.

Tom Hanks
Brad Pitt
Meryl Streep
Leonardo DiCaprio
Denzel Washington

Name something people do to relax.

Read a book
Listen to music
Watch TV
Meditate
Take a bath

Name a piece of furniture people commonly have in their bedroom.

Bed
Dresser
Nightstand
Closet
Desk

Name a fast-food chain.

McDonald's
Burger King
Taco Bell
KFC
Subway

Name a musical instrument.

Guitar
Piano
Violin
Drums
Flute

Name a type of bird.

Sparrow
Eagle
Parrot
Robin
Pigeon

Name a famous landmark.

Eiffel Tower
Statue of Liberty
Great Wall of China
Pyramids of Giza
Big Ben

Name a famous author.

J.K. Rowling
Stephen King
George R.R. Martin
Agatha Christie
Mark Twain

Name a type of salad.

Caesar salad
Greek salad
Cobb salad
Spinach salad
Caprese salad

Name a car brand.

Toyota
Ford
Honda
BMW
Mercedes-Benz

Name a popular board game.

Monopoly
Scrabble
Chess
Clue
The Game of Life

Name a social media platform.

Facebook
Instagram
Twitter
TikTok
LinkedIn

Name a job in the medical field.

Doctor
Nurse
Surgeon
Pharmacist
Dentist

Name a type of cake.

Chocolate cake
Vanilla cake
Red velvet cake
Carrot cake
Cheesecake

Name a popular sitcom.

"Friends"
"The Office"
"The Big Bang Theory"
"Seinfeld"
"Brooklyn Nine-Nine"

Name a body part people often injure.

Ankle
Knee
Back
Wrist
Shoulder

Name a vegetable that kids refuse to eat.

Brussels sprouts
Broccoli
Spinach
Beets
Peas

Name a popular fairy tale.

"Cinderella"
"Snow White"
"Beauty and the Beast"
"Little Red Riding Hood"
"The Three Little Pigs"

Name something people do on a sunny day.

Go to the beach
Have a picnic
Play sports
Go for a walk
Garden

Name a reason people might make a phone call.

Work-related matters
To catch up with friends
To make a reservation
To ask a question
Emergency

Name a popular holiday movie.

"Home Alone"
"Elf"
"A Christmas Story"
"The Grinch"
"Die Hard"

Name a type of shoe.

Sneakers
Sandals
Boots
High heels
Loafers

Name a type of bread.

Whole wheat
White
Sourdough
Rye
Baguette

Name something people do before going to bed.

Brush teeth
Read a book
Watch TV
Take a shower
Set the alarm

Name a popular wedding gift.

Money
Kitchen appliances
Dinnerware
Linens
Picture frames

Name a type of seafood.

Shrimp
Lobster
Crab
Salmon
Oysters

Name a popular candy bar.

Snickers
Kit Kat
Milky Way
Reese's
Hershey's

Name a hobby people have.

Gardening
Painting
Playing a musical instrument
Reading
Fishing

Name a common fear.

Fear of heights
Fear of spiders
Fear of snakes
Fear of public speaking
Fear of the dark

Name a country in Europe.

France
Germany
Italy
Spain
United Kingdom

Name a type of dance.

Ballet
Salsa
Hip hop
Tango
Jazz

Name a reason people exercise.

To lose weight
To stay healthy
To gain muscle
To relieve stress
To improve endurance

Name a character from the Harry Potter series.

Harry Potter
Hermione Granger
Ron Weasley
Severus Snape
Albus Dumbledore

Name a type of cheese.

Cheddar
Mozzarella
Swiss
Brie
Blue cheese
How To Play Family Feud In The Classroom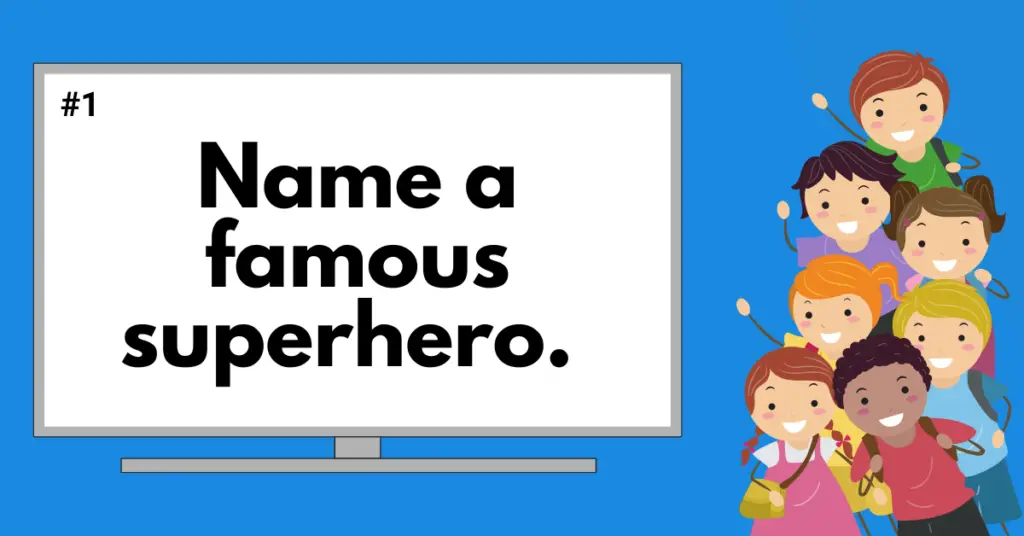 Playing Family Feud in the classroom is super fun and easy to set up. Here's a step-by-step guide on how to adapt this popular game for the classroom:
Step 1: Prepare Your Questions and Answers
To start, you'll need a list of questions and answers. We've provided 50 fun 'Family Feud' style questions and answers above, but you can easily make your own based on the age and level of your students and the topics you're currently studying.
For example, if you're teaching young children, you might create questions like "Name a color of the rainbow" or "Name an animal you can keep as a pet." The key is to make questions that can have multiple possible answers.
Step 2: Add Your Questions And Answers To Our PPT Template
Once you have your questions and answers, you need a way to display them to your students. Our Top Five Quiz PowerPoint Template is perfect for this. Simply type in your questions and answers into the template and start the presentation when your ready to start your quiz.
Step 3: Split the Class into Teams
Divide your class into two teams, similar to the family set-up on the show. Each team should choose a 'team leader' who will provide the final answers for the team.
Step 4: Start The Game
To begin, one representative from each team should come to the front of the class. These two representatives then compete to answer the question the quickest. The team of the student who provides the highest-ranking answer then gets a chance to guess the remaining answers. If they fail to find the remaining answers, then control passes to the other team, who then gets to guess.
Step 5: Keep Score
Be sure to keep track of points for each team. The team with the most points at the end of the game wins. Remember, the goal is to learn while having fun. Encourage your students to engage, think creatively, and, most importantly, have fun!
Similar Games To Family Feud
Top Five Quiz Game
The Top Five Quiz Game is similar to Family Feud but a lot simpler. In these quizzes, students are asked a question which can have multiple possible answers. If their answer is in the 'Top Five' answers, then they get points.
These quizzes are incredibly fun and students really enjoy playing, especially when they get the top answer. You can make your own Top Five Quiz using our PPT Template, or use one of these ready-made quizzes:
Summer Top Five Quiz
Winter Top Five Quiz
Easy Top Five Quiz
Top Five Quiz For Kids
Jeopardy
Jeopardy is another famous TV game show that can be easily adapted for the classroom. In this game, the host provides the answers and then the contestants must provide the correct question. You can easily make your own Jeopardy game to use in class with our Jeopardy PowerPoint Template.
Wrapping Up
Thanks for reading! I hope you find these Family Feud Questions useful and have lots of fun playing this game in class. Before you go, be sure to check out these related resources:

One Percent Club Questions
General Knowledge Quiz Questions
The 20 Questions Game
Are You Smarter Than A 5th Grader? Questions
What Am I? Questions