ESL Topics For Kids | 30 English Topics For Kids And Beginner Students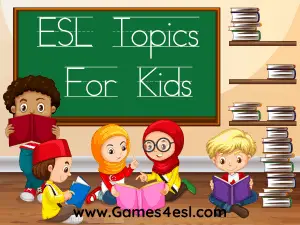 Whether you are teaching English online, or teaching English in South Korea, one of the big challenges when creating lessons is figuring out what ESL topics to teach. 
This is especially challenging if you must create your own curriculum for ESL beginners. 
There are many topics that are typically found in young learner curricula.
In this post we have put together a list of 30 ESL topics that are typically taught to ESL kids and beginners. 
You can also click on ESL lesson topic titles below to check out some of our free lesson materials that you can use in your English lessons.
30 ESL Topics For Kids
Thanks for reading. I hope you found this list of ESL topics for kids useful. Before you go don't forget to check out our free ESL games, activities, and resources including Activity Videos, PowerPoint Games, PowerPoint Lessons, Worksheets, Board Games, and Lesson Plans.