Free Summer Worksheets For Kids
Download free summer worksheets for kids and use them today. Below you'll find a collection of worksheets for teaching about summer and summer related vocabulary in English. These worksheets are great for kids and beginner English language learners. See below for the summer worksheets currently available, and check the bottom of the page for related resources.
Summer Worksheets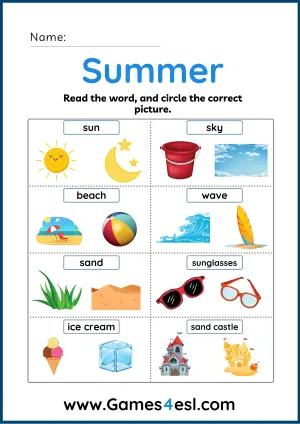 Worksheet 1
This first summer worksheet for kids has 8 summer words with pictures. Students should read the summer word and then circle the correct picture. Words include sun, sky, beach, wave, sand, sunglasses, ice cream, and sand castle.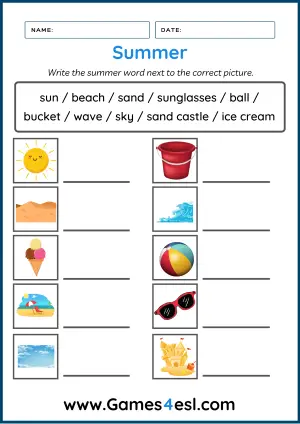 Worksheet 2
This next worksheet is great for teaching summer vocabulary in English. There are 10 pictures of summer related things. Students should look at the picture and then write the summer word in the blank space.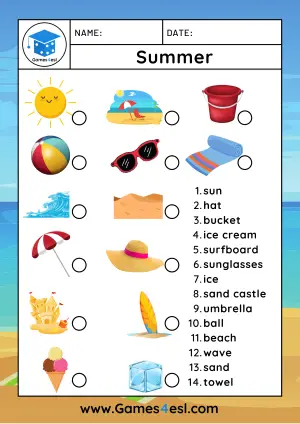 Worksheet 3
To complete this summer worksheet, students should look at the pictures, read the words, and write the correct number next to the correct summer picture. This worksheet is great for kids and includes 14 summer vocabulary words.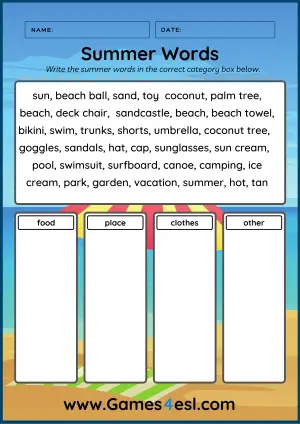 Worksheet 4
This worksheet includes many summer vocabulary words. To complete this worksheet, students should read the words and then write the word in the correct category box.
Related Resources