Extensive List Of Clothes: Names Of Clothes In English With Pictures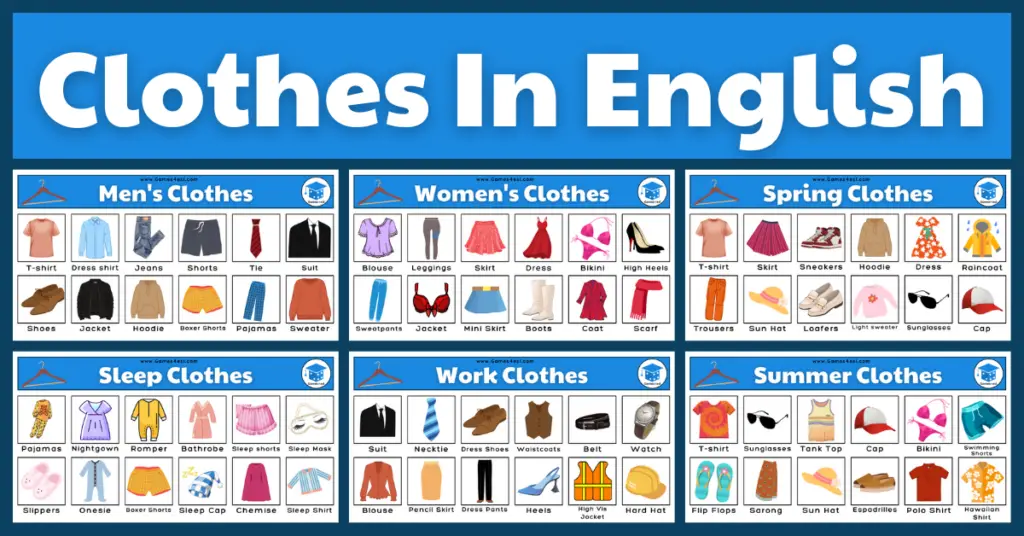 Clothes! We all wear them every day, so learning the names of clothes is essential for English language learners if they are to master the language. This extensive list of clothes in English with pictures will help you learn or teach the names of clothes.
List Of Clothes
Men's Clothes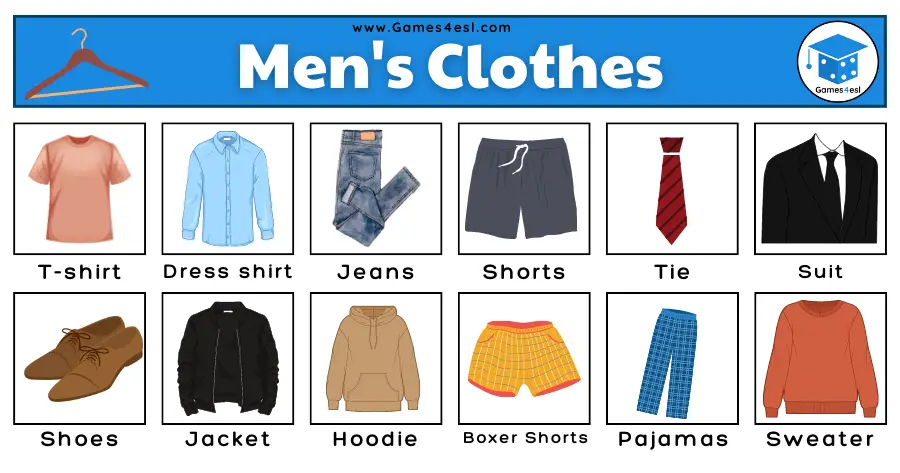 Polo shirt
Dress shirt
T-shirt
Flannel shirt
Henley shirt
Sweatshirt
Hoodie
Cardigan
Pullover sweater
Turtleneck sweater
Blazer
Sports jacket
Suit jacket
Trench coat
Windbreaker
Leather jacket
Bomber jacket
Parka
Pea coat
Jeans
Chinos
Cargo pants
Dress pants
Sweatpants
Joggers
Cargo shorts
Chino shorts
Board shorts
Athletic shorts
Boxer shorts
Briefs
Boxer briefs
Undershirts
Dress shoes
Casual shoes
Boots
Sneakers
Sandals
Loafers
Ties
Bow ties
Belts
Cufflinks
Pocket squares
Hats
Scarves
Gloves
Tuxedos
Suits
Waistcoats
Pajamas
Robes
Nightshirts
Swim trunks
Board shorts
Jogging suits
Gym shorts
Compression shorts
Athletic shoes
Women's Clothes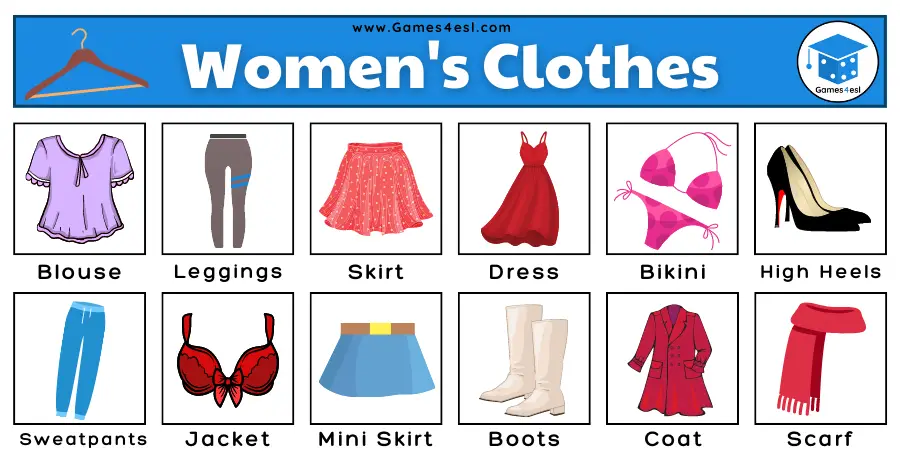 T-shirt
Blouse
Tank top
Halter top
Tube top
Tunic
Sweatshirt
Hoodie
Cardigan
Pullover sweater
Turtleneck sweater
Wrap sweater
Blazer
Leather jacket
Trench coat
Windbreaker
Pea coat
Fur coat
Denim jacket
Jeans
Leggings
Dress pants
Sweatpants
Joggers
Palazzo pants
Harem pants
Jean shorts
Bermuda shorts
Athletic shorts
High-waisted shorts
Mini skirt
Pencil skirt
Maxi skirt
Midi skirt
Pleated skirt
A-line dress
Shift dress
Wrap dress
Maxi dress
Cocktail dress
Evening gown
Bodycon dress
Slip dress
Skater dress
Ball gown
Bikini
One-piece swimsuit
Tankini
Swimsuit cover-up
Sports bra
Underwire bra
Bralette
Panties
Thongs
Boyshorts
High heels
Flats
Sandals
Boots
Loafers
Pumps
Scarves
Belts
Handbags
Hats
Jewelry
Tights
Stockings
Pajamas
Robes
Nightgowns
Lingerie
Workout leggings
Sports shorts
Yoga pants
Sports tops
Spring Clothes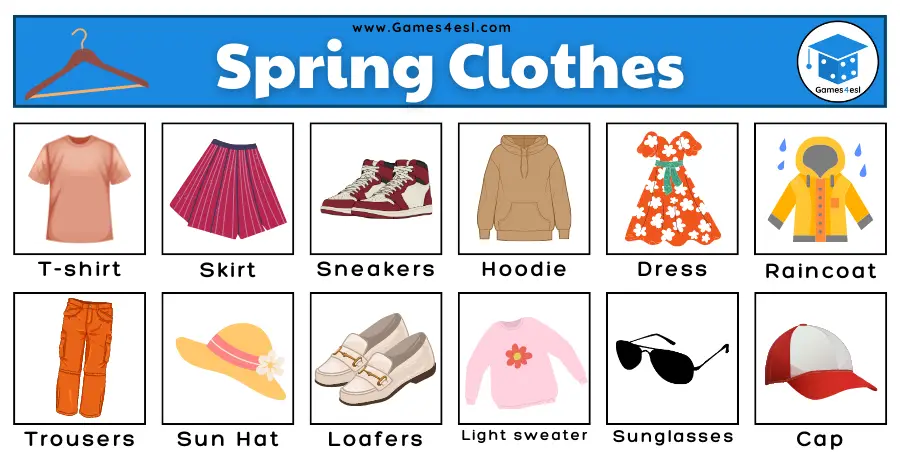 T-shirt
Long-sleeve shirt
Light sweater
Hoodie
Raincoat
Light jacket
Jeans
Trousers
Capri pants
Skirt
Dress
Light scarf
Sneakers
Loafers
Ankle boots
Flats
Sun hat
Light gloves
Summer Clothes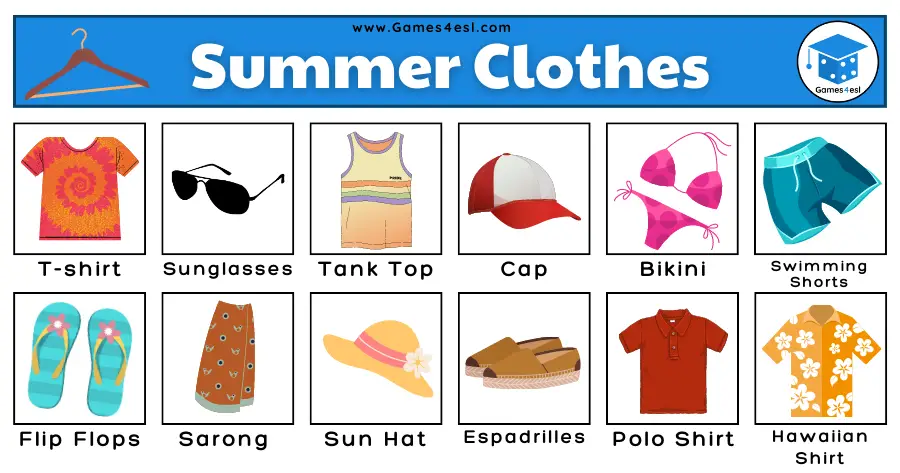 Tank top
Short-sleeve shirt
Polo shirt
Hawaiian Shirt
Sundress
Shorts
Capri pants
Mini skirt
Swimwear
Flip flops
Sandals
Espadrilles
Sun hat
Sunglasses
Sarong (swimwear cover-up)
Autumn Clothes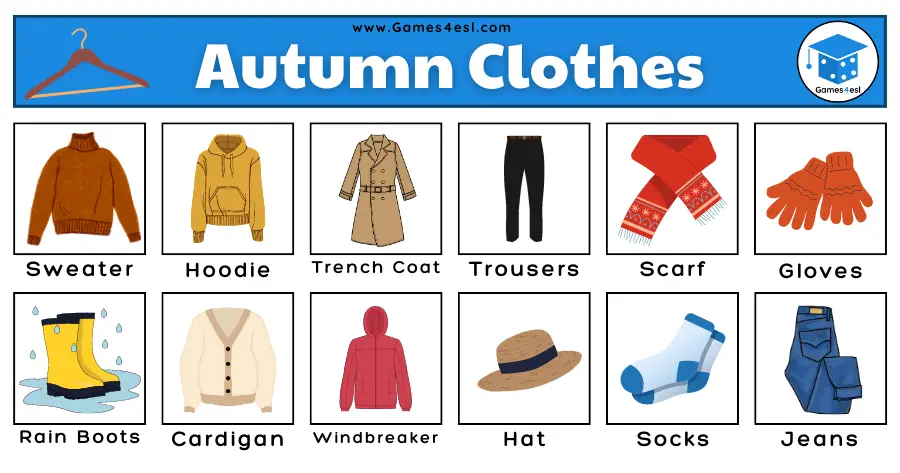 Long-sleeve shirt
Sweater
Hoodie
Trench coat
Leather jacket
Jeans
Trousers
Boots
Scarf
Gloves
Hat
Rain boots
Long skirt
Cardigan
Windbreaker
Winter Clothes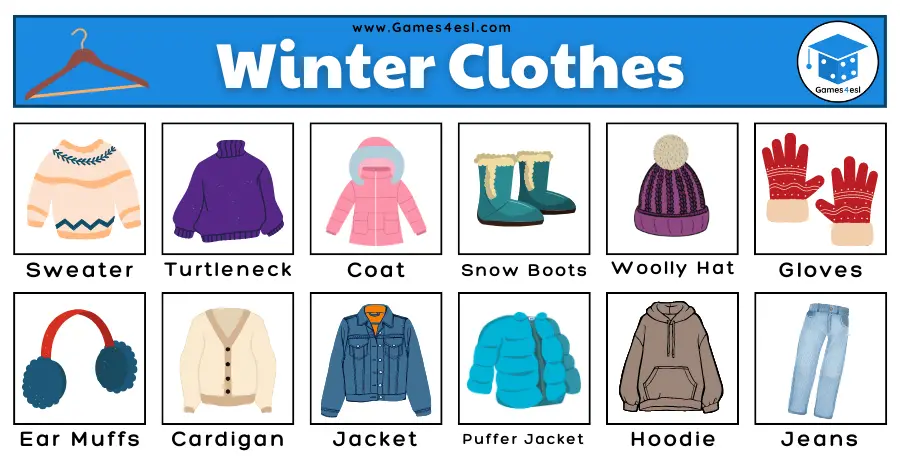 Sweater
Turtleneck
Hoodie
Coat
Parka
Jeans
Trousers
Thermal underwear
Snow boots
Winter hat
Scarf
Gloves
Ear muffs
Ski jacket
Ski pants
Snowsuit
Tights/leggings
Knitted dress
Cardigan
Work Clothes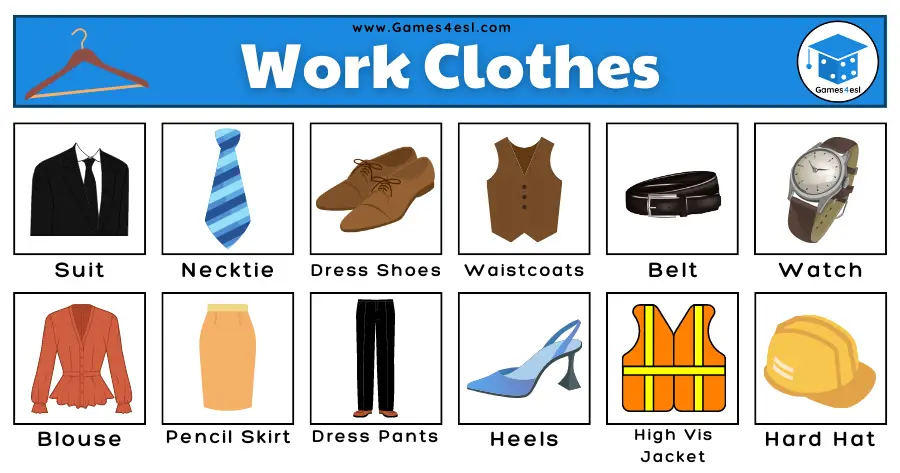 Dress shirt
Blouse
Waistcoats
Polo shirt
Trousers
Skirt
Dress
Suit
Blazer
Necktie
Bow tie
Dress shoes
Pumps
Loafers
Pantyhose
Cardigan
Hard Hat
High Vis Jacket
Casual Clothes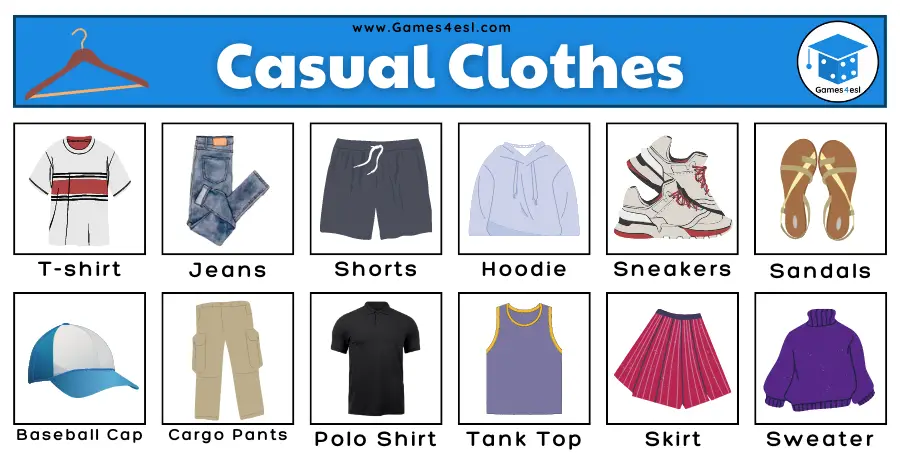 T-shirt
Jeans
Shorts
Hoodie
Sweater
Sneakers
Sandals
Baseball cap
Sun hat
Casual dress
Leggings
Cargo pants
Trainers
Polo shirt
Exercise Clothes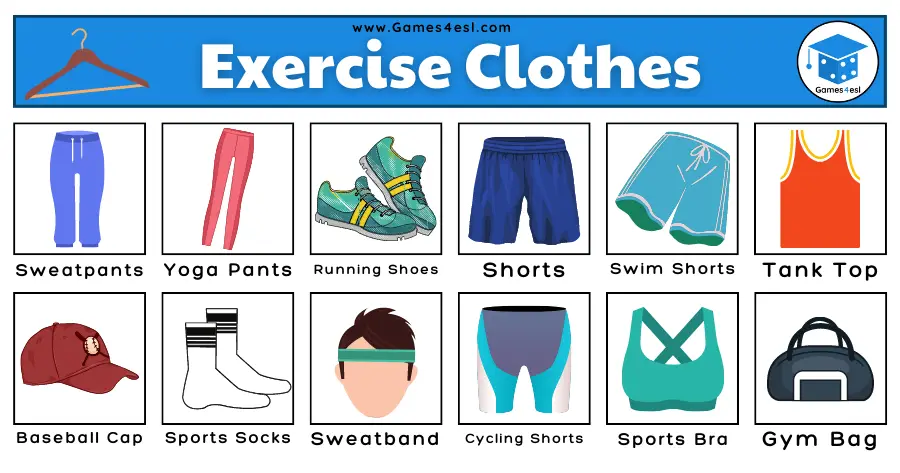 Sports bra
Tank top
Athletic shorts
Joggers
Sweatpants
Yoga pants
Sports socks
Compression shirt
Compression shorts
Running shoes
Training shoes
Sweatbands
Cycling shorts
Athletic swimwear
Sleep Clothes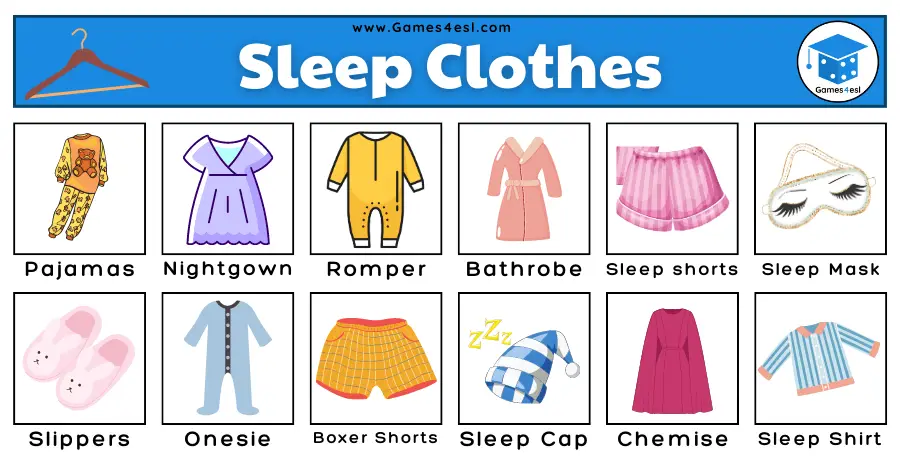 Pajamas
Nightgown
Nightshirt
Bathrobe
Sleep shorts
Sleep mask
Slippers
Onesie
Chemise
Clothes Vocabulary Game
If you're teaching the names of clothes in English, then this clothes guessing game is a super fun way to review clothing vocabulary. There are ten rounds, and in each round, you will see a picture of an item of clothing hidden behind some colored shapes. Students must guess what item of clothing it is before the image is revealed.
To guess, you can ask students to raise their hands, write down their answers, or simply shout out the clothing name as soon as they know it. This activity can be used at the start of class to see what words they already know or at the end of class to review the names of clothes that they have learned.
More Clothes Resources
Thanks for reading! Before you go, check out these related resources for teaching and learning about clothes in English:

Clothes Worksheets
Winter Clothes Worksheets
Summer Clothes Worksheets
Clothes PowerPoint Lesson
Clothes Lesson Plan
Clothes Vocabulary Games